Press Release
21 August 2014
Community Fund helps boaters get a grip
Fareham Council has granted a request from residents of Lower Quay to purchase a ringbolt to help with the launching of small boats.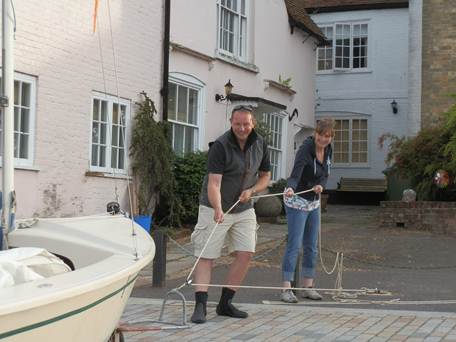 Fareham's Community Fund granted £325 after hearing how boat owners using Lower Quay have been pulling boats up and down the slipway without the aid of a tackle. The new ring bolt provides an anchor point where winching equipment can be attached making it much easier to get boats in and out of the creek.
The ringbolt is available to 2nd Fareham Sea Scouts, Fareham Sailing and Motorboat Club and anyone else who wishes to use it.
CAT Chairman for Fareham Town Cllr Howard has said: "Fareham Quay is greatly valued by the local boating community. This simple piece of equipment will make a big difference to the many boaters it.'
The community fund is available to any resident or organisation that benefits the local community. To qualify for funding you must be based in the Fareham Borough. You can apply for up to £4,999 to pay for one off purchases. If you have a good idea or existing project you think is eligible for funding contact a member of the Community Action Team (CAT) on 01329 236100, or email cats@fareham.gov.uk
 ENDS
Notes for editors:
Please see the attached picture which accompanies this press release.
The photograph shows Richard and Clair Payne using the new ringbolt at Lower Quay
For further information contact:
Jacey Jarman, PR & Marketing Officer, 01329 824518
fax: 01329 550576, e-mail: publicity@fareham.gov.uk
This and previous media releases can be viewed on the Council's website: www.fareham.gov.uk/pressreleases
Keep in touch on the go
'Like' us on Facebook 

'Follow us' on Twitter