Press Release
17 October, 2014
Runway improvement works to start
Works to improve the 1,300m runway at Daedalus, Fareham will be getting underway soon.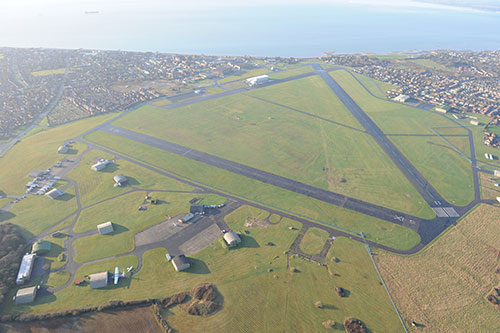 The project, costing £1.5 million, has been funded by Fareham Borough Council and is scheduled to start on 20 October. The work will include resurfacing of the main runway, repairs to taxiways and the installation of ducting to enable the future provision of runway lighting. Contractors Raymond Brown will carry out the work, with Hampshire County Council overseeing it.
 
Executive Leader of Fareham Borough Council, Councillor Seán Woodward, said: "These improvements will support an application for a commercial licence for the airfield. The licence will allow a greater variety of planes to use the airfield and encourage more businesses to join the already thriving aviation community at the site."
The improvements to the runway are part of a £8.3m package of investment by Fareham Borough Council at the Solent Enterprise Zone at Daedalus, with the aim of transforming it into a business destination, supported by the airfield and contributing towards the 3,500 new jobs target.  Other elements include the construction of a business Innovation Centre and the development of new hangar space.
This investment package is supported by the Homes and Communities, which currently owns the airfield and the enterprise zone site, the Solent Local Enterprise Partnership and Hampshire County Council.
 
Kevin Bourner, HCA head of area, said: "These improvements form an important part of our work with partners to improve the offer for businesses here who want to use the airfield or locate or grow on the Solent Enterprise Zone.
"Visitors can see that things are happening at the site, and this work will help to underpin the airfield as a key feature of the enterprise zone."
Work on the runway will start on 20 October and take around 6 weeks. The airfield will remain open for the duration of the work with the exception of weekdays between 17th and 30th November.
 
Airfield users who wish to find out more about the changes should contact the operators on 023 9255 1015/023 9255 1714
ENDS
For further information contact:
Lorna Tipper, PR and Marketing Officer, Tel: 01329 824302
fax: 01329 550576, e-mail: publicity@fareham.gov.uk
This and previous media releases can be viewed on the Council's website: www.fareham.gov.uk/pressreleases
Keep in touch on the go
'Like' us on Facebook 

'Follow us' on Twitter