Press Release
03 November 2014
War veterans remembered
The Mayor of Fareham today unveiled four more names of those who lost their lives in WW2, which have been added to the war memorial at Holy Trinity Church.
The four names had been found after the Council undertook research to find war heroes who lived in Fareham.  The names include:
Trooper Norman Edward Wareham, 44th Royal Tank Regiment – Royal Armoured Corps. Died aged 29 on 1/06/1942

Sergeant George Edward Salisbury, Royal Air Force Volunteer Reserve – 2013 Squadron. Died aged 20 on 28/03/1941

Marine Haydn Jones, Royal Marines. Born 1921, died 25/11/1941.

Lance Corporal Percy Nathaniel Whitear, 1st Battalion Northamptonshire Regiment. Died aged 28 on 20/04/1944.
Reverend Sally Davenport said a prayer and blessed the memorial to honour those fallen soldiers. The Mayor of Fareham, Cllr David Norris, then unveiled the names in front of family members of the soldiers.
The Mayor of Fareham, Cllr David Norris said: "This is a fitting tribute to honour those soldiers from Fareham who fought and died in WW2. It is so important that we remember them and pay our respects, not only during Remembrance Week but also throughout the weeks and years that follow."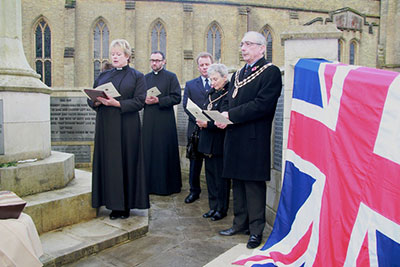 ENDS
For further information contact:
Becca Bennett, PR and Marketing Support Assistant, Tel: 01329 824609
fax: 01329 550576, e-mail: publicity@fareham.gov.uk
This and previous media releases can be viewed on the Council's website: www.fareham.gov.uk/pressreleases
Keep in touch on the go
'Like' us on Facebook 

'Follow us' on Twitter