Press Release
12 November, 2014
Green cars are go in Fareham
Fareham Borough Council is helping support the development of ultra-low emission vehicles by installing an Electric Vehicle Charge point in Civic Way's North Car park. The installation is part of a Hampshire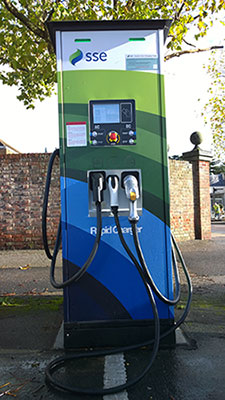 County Council initiative to provide a network of charge points across Hampshire.
Councillor Seán Woodward, Hampshire County Council's Executive Member for Economy, Transport and Environment said "Hampshire County Council Is delighted to be able to roll out electric vehicle charge points across the county.  The charge point can power up an electric vehicle in as little as 30 minutes;  providing enough charge for 100 miles of travel with the cost varying between £5-7 depending on a vehicles charge capacity. Parking in the designated charging bays, for up to 1 hour, whilst the charge is taking place is free. With running costs like these it is easy to see why more people are buying electric vehicles."
Councillor Keith Evans , Executive member for Planning and Development at Fareham Borough Council said "Electric vehicles and hybrids are becoming more popular and we felt it important that people living and working in Fareham were not put off from owning a 'green car' due to a lack of charging facilities."
Different cars have different connections. The rapid charge points in Civic Way have three different types of connection and are able to charge a range of models including;  BWM, VW, Audi, Ford, General Motors, Porsche, Nissan, Citroen, Mistubishi, Peugeot, Renault and Kangoo.
Executive member for Pubic Protection and Chairman of the Councils internal steering group for Air Quality Management, Cllr Trevor Cartwright has said 'Zero or ultra-low emission vehicles have the potential to reduce air pollution and help tackle climate change.  As part of their mission to promote the uptake of electric cars The Office for Low Emission Vehicles has funded 75% of the project, Fareham Council have been happy to support the Fareham installation which has also been made possible by the assistance of SSE (Southern Electric).'
So far Hampshire County Council has installed 7 rapid charge points around Hampshire. You can find out the locations at http://www.hants.gov.uk/ 

To sign up for a top up charge card to use the new charge point in Fareham visit www.chargepointgenie.com 

.
ENDS
Notes to editor:
The location of new rapid charge points, also launching on this date, as part of the HCC initiative:
Andover – Texaco Service Station, Charlton Road
Eynsham (Oxon) – BP Service Station, A40
Fareham – Civic Way (North) Car Park
Farnborough – ESSO Petrol Station, Bridge Street
Newport (IOW) – Central Car Park
Ringwood – The Furlong Car Park, A31
Romsey – Romsey Rapids Leisure Centre Car Park
For further information contact:
Jacey Jarman, Fareham Borough Council, PR & Marketing Officer, 01329 824518
fax: 01329 550576, e-mail: publicity@fareham.gov.uk
This and previous media releases can be viewed on the Council's website: www.fareham.gov.uk/pressreleases
Gloria Kwaw, Hampshire County Council, Senior Project Officer, 01962 847657
email: gloria.kwaw@hants.gov.uk
Keep in touch on the go
'Like' us on Facebook 

'Follow us' on Twitter