Press Release
4 December 2014
"Dog poo isn't magic!"
Dog walkers will soon notice some new signs around the Borough, encouraging them to clean up after their pets. The striking signs have been designed by 7 year old Camilla Ellwood from Portchester, who wrote to us recently highlighting the problem of dog mess. She sent us a poster she had drawn encouraging owners to 'pick up the poo'.
We liked Camilla's poster so much it has now been made into signs for all 42 of our notice boards as well as for display at various local parks.
Camilla said: "'It makes my mummy and daddy very cross when people don't pick it up. If you leave it it's horrible for everyone. Sometimes we see it on the pavement on our walk to school. It was raining a lot in half term so I thought I'd do a poster about it and send it to the Council. It's really exciting to see my poster up in parks and things!"
Executive Member for Streetscene, Cllr Leslie Keeble, said: "Thankfully most dog owners do the right thing and clean up after their dogs. However, when people don't, not only does it ruin open spaces, it's also a health hazard. It's good to see residents as young as Camilla showing community awareness – hopefully her poster will encourage the minority of dog owners concerned to be more considerate and pick up the poo!"
Fareham Borough Council's Enforcement team can issue a £75.00 on the spot fine, known as a fixed penalty notice, if they see someone not cleaning up after their dog. There is the possibility of prosecution and a fine of up to £2,500 if the original fine isn't paid.
As a thank you for her hard work, Camilla and her family were invited to the Mayor's Parlour, where she was presented with a family panto ticket and a framed copy of her poster.
ENDS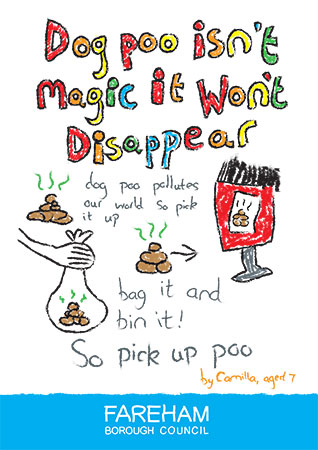 For further information contact:
Lorna Tipper, PR and Marketing Officer, Tel: 01329 824302
fax: 01329 550576, e-mail: publicity@fareham.gov.uk
This and previous media releases can be viewed on the Council's website: www.fareham.gov.uk/pressreleases
Keep in touch on the go
'Like' us on Facebook 

'Follow us' on Twitter