Press Release
17 December 2014
Conservation volunteers thanked for their hard work
Executive Leader of Fareham Borough Council, Cllr Seán Woodward, has visited the Coldeast site in Sarisbury and praised conservation volunteers for their work.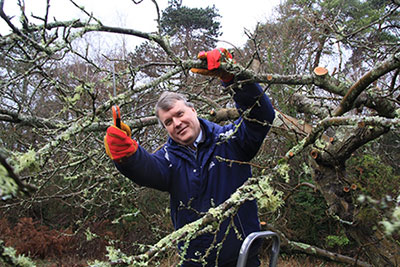 The site is where the new Western Wards Leisure Centre and pool is planned to be built, however much of the land has been taken on by the Council's Countryside Service and is now being managed for the community to enjoy. The area is important for a diverse range of wildlife and includes woodland, meadow, orchards and ponds.
Volunteers, led by our Countryside Service, have been working to:
Improve the pond - some of the banks have been widened and stabilised and scrub/trees around most of the pond have been removed to open it up to the public.
In the woodland - remove non-native species, such as Laurel and Rhododendron, and plant native species such as Hazel, Field Maple and Hawthorn. The paths are also being improved.
In the orchard – clear scrub and prune fruit trees.
 
During his tour of the site, Cllr Woodward lent a hand by helping to prune an apple tree (see picture). He said: "Coldeast is an important site with a range of different habitats. Volunteers have been doing a fantastic job here helping to restore it to an open space which the whole community will be able to enjoy."
ENDS
For further information contact:
Lorna Tipper, PR and Marketing Officer, Tel: 01329 824302
fax: 01329 550576, e-mail: publicity@fareham.gov.uk
This and previous media releases can be viewed on the Council's website: www.fareham.gov.uk/pressreleases
Keep in touch on the go
'Like' us on Facebook 

'Follow us' on Twitter