Press Release
05 October 2015
Dial 999 For a Fun Filled Day with the Emergency Services!
Hold the phone and come along to West Street on Saturday 17th October for 999 Day!
Running from 9.30am – 4.30pm, you can come and meet your local emergency services for a fun filled day full of life saving activities! The event is free and will allow visitors to get up, close and personal with fire and rescue vehicles on display.
St John's Ambulance will provide a walk-on ambulance to view the lifesaving equipment carried on board. They will also demonstrate CPR and other first aid practices and show off their cycle responders, allowing attendees to see exactly how well-equipped their bicycles are.
Breeze FM are also supporting the event and will be running competitions throughout the day!
Other attractions include activities run by the RNLI for children to teach them about water safety; Ramora UK is bringing a bomb disposal robot and there will be a police BMW motorcycle!

Executive Member for Leisure and Community, Councillor Sue Bell has said "I encourage everyone to attend this important event. Not only will be this be a fun day for everyone, it may also prove vital.  You never know when you might find yourself in an emergency situation."
For more information, please visit www.farehamtowncentre.co.uk/events 

ENDS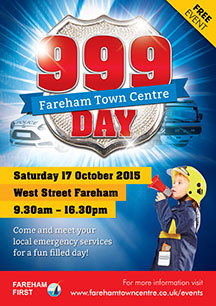 For further information contact:
Katy Ladyman, PR and Marketing Officer, Tel: 01329 824518
fax: 01329 550576, e-mail: publicity@fareham.gov.uk