Press Release
23 September 2015
Opening and Dedication of the Ernest Crouch Lounge takes place at Collingwood Court
The unveiling of a memorial plaque for Alderman Ernest Crouch took place this afternoon as the stylish new lounge at Collingwood Court Sheltered Housing Scheme in Stow Crescent was officially opened in his honour.
Ernest Crouch was a well-respected Borough Councillor, representing Portchester West from 1979-1995 and 1996-2010, during which time he also served as Mayor in 1990/1991 and 2008/2009. He served as Leader of the Council in 1994 -1995 and was admitted to the roll of Honorary Aldermen in July 2010.
Ernest Crouch's widow Enid was present to unveil the plaque, which celebrates his dedicated service to the Borough.
Executive Leader, Councillor Seán Woodward says: "This was a fantastic opportunity to honour a man who was devoted to delivering high quality housing in Fareham and believed that everyone was entitled to a home of the highest quality.  Ernie was a good friend and colleague of many years standing and recognised both locally and nationally for his dedication to housing.  He was a firm believer in Winston Churchill's observation that 'We shape our buildings, thereafter they shape us'".
The £5m Fareham Borough Council funded project comprises forty sheltered flats for older people. Set within landscaped gardens and an open space for residents to enjoy are a mix of one and two bedroom flats complete with a wet style shower room, and an outside terrace or balcony.
ENDS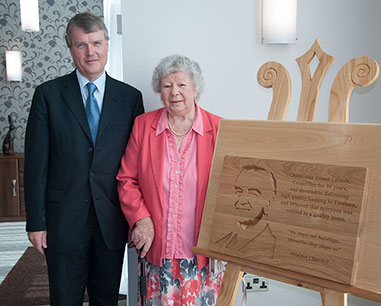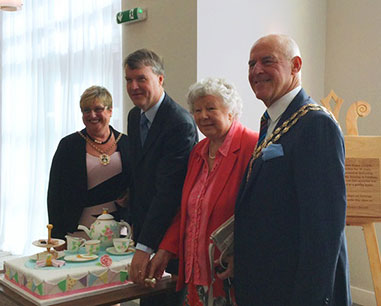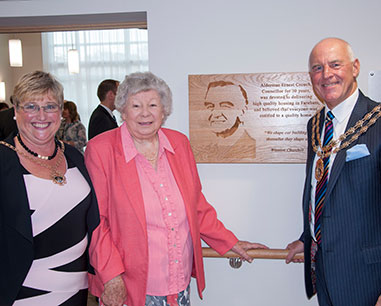 For further information contact:
Katy Ladyman, PR and Marketing Officer, Tel: 01329 824518
fax: 01329 550576, e-mail: publicity@fareham.gov.uk