Press Release
19 January 2016
Hill Head Promenade open and holding up well
On 22 January, a week ahead of schedule, the Hill Head promenade was reopened to the public.
Approximately 22 tonnes of concrete was used throughout the process along with 350 concrete bagwork units and 12m of sheet piles.  The collapsed earth embankment was rebuilt and the promenade footpath reinstalled. Some temporary plastic sheeting was installed over the holes in the beach groyne.
The repairs have stood up well to yet another bout of severe weather along the coast on the back of Storm Jonah. Some concerns have been raised by members of the public that a few of the concrete bags have already washed away.
Cllr Keith Evans, the Executive Member for Planning & Development confirms this is not at all unexpected explaining:  "The bags were put in place to enable the concrete to be poured to secure the collapsed seawall and achieve the objective of reopening the promenade as quickly as possible."
The Eastern Solent Coastal Partnership (on behalf of the Council) is continuing to closely monitor the condition of the failed seawall to ensure the area remains stable and safe.
Work is now underway to determine the best way forward to replace all of these ageing defences and thus secure the promenade for future generations.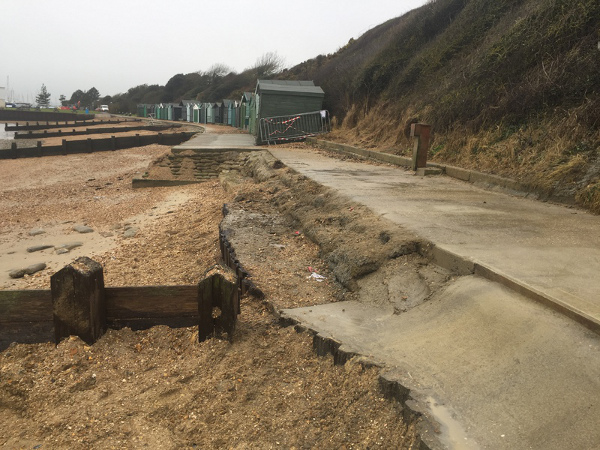 ENDS
Editor's notes
For Further Information Contact:
Jan Lasnon, PR & Marketing Manager, tel: 01329 824302
fax: 01329 821518, e-mail: publicity@fareham.gov.uk