Press Release
28 July 2016
Glorious green spaces given green flags!
Two of the Borough's open spaces have been awarded the prestigious Green Flag Award.
The Sensory Garden in Fareham Town Centre has now been given the award for 8 years in a row, while Holly Hill Woodland Park receives the recognition for the 9th year running.
The Green Flag Award is only given to parks which meet high standards in horticulture, cleanliness, sustainability and community involvement.
Executive Member for Leisure and Community, Councillor Sue Bell, said: "It's great to see two of the Borough's best open spaces receiving this recognition once again. Both the Sensory Gardens and Holly Hill Woodland park are lovely places for a visit especially with the family during the summer holidays."
Executive Member for Streetscene, Councillor Tiffany Harper, said: "We really value our parks and open spaces in the Borough. Retaining these Green Flag Awards is recognition of the hard work of our dedicated staff and the help they receive from volunteers and the public."
All award-winning sites from the Green Flag Award scheme can be found at http://greenflag.keepbritaintidy.org/  

ENDS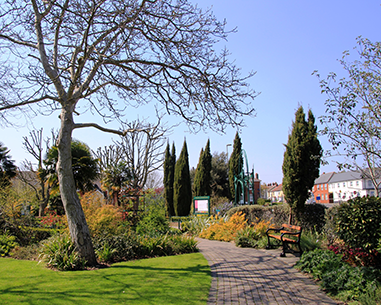 For further information contact:
Lorna Tipper, PR and Marketing Officer, Tel: 01329 824302
fax: 01329 550576, e-mail: publicity@fareham.gov.uk