Press Release
Thursday 7 March 2013
Research will help decide how best to protect Fareham's coastline
Research that will help decide how best to manage the local coastline in Fareham will be carried out on the shores next to Harbour View, Salterns and Birdwood Grove/Wicor recreation grounds from Monday 11 March and is expected to last for a total of 8 working days, with 2-3 days at each site.     
The research work, which is being paid for by Natural England, will involve a series of small boreholes drilled into the ground in areas of potential risk of coastal erosion over the next 100 years.  Samples from the boreholes as well as from the sediment and water will then be taken for analysis.
Small areas of open space will be temporarily fenced off during the works. Information about this will be posted around the entrances to all of the sites for the duration of the works.   Residents living near to the sites will also be informed by letter.
Executive Member for Strategic Planning and Environment Councillor Keith Evans said: "This research will help us manage the coastline over the next 100 years, and the results could lead to more funding for coastal protection schemes at these sites, if needed."
The results of the research will feed into the River Hamble to Portchester Coastal Defence Strategy, which is being developed by the Eastern Solent Coastal Partnership.
ENDS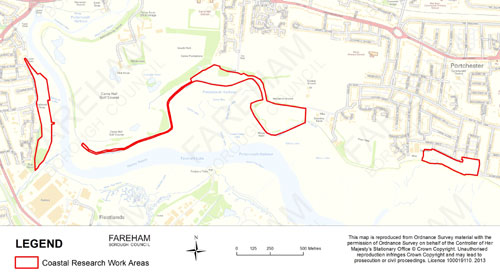 Editor's notes
For Further Information Contact:
Roy Brown, Customer Engagement Manager, tel: 01329 824409
fax: 01329 824505, e-mail: publicity@fareham.gov.uk
This and previous media releases can be viewed on the Council's website: www.fareham.gov.uk/pressreleases
Keep in touch on the go
Like us on Facebook 

Follow us on Twitter