Shopping in Fareham
Fareham offers shopping which is easily accessible and in a clean and safe environment. With its spacious pedestrianised town centre and speciality shops, it retains its traditional market town and historic architectural appeal in a modern shopping environment.   Please take a look at the Fareham Town Centre website 

Markets in Fareham
Traditional markets are held from 9am to 3pm:
Every Monday in Fareham West Street
Every Wednesday in Portchester West Street
The markets offer everything from fresh fruit and vegetables to household goods and clothing. It's convenient to park, close to local bus services, and there's easy access to town centre shops.
Farmers' market
Farmers' markets are held from 9am to 3pm on the first Saturday of every month in Fareham town centre.
Fareham Farmers Markets create an environment where consumers and producers are brought together. All produce being sold must have been grown, reared, caught, brewed, pickled, baked or processed within the 'local'area. Wherever possible, the producer, or someone directly involved with the production of the goods, will sell the produce themselves. The definition of 'local'; is normally within Hampshire and the Isle of Wight, but could be within 100 miles of Fareham if there is no suitable local producer of a given product.
 
Speciality markets
These take place from time to time as shown on the Fareham Town Centre website's events page

 and on the What's on guide across Fareham.
If you have any queries relating to the market, please contact the Market Supervisor on 07836211558.
Fareham Shopping Centre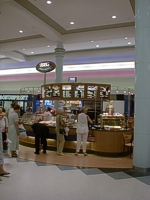 A bright and airy undercover shopping centre 

, offering more than 90 high street names, including BHS, Boots and M&S, seven days a week.
Market Quay Shopping Centre
Opened in 2005, Market Quay Shopping Centre offers mixed retail and leisure from 17 units including Peacocks, Poundland, Robert Dyas, TK Maxx and Wilkinsons 

, as well as Sports Direct Fitness Gym and the Apollo 5-screen cinema.
West Street speciality shops
From Westbury Manor Museum westwards along West Street, you'll find around 70 shops and businesses

(1 MB).  Many of the shops are independently owned and managed, with a unique speciality shopping offer.  From cake decorating to carpets, fresh fish to fire places and florists - West Street offers plenty of choice for the discerning customer.
If you would like any further information on the above, please contact the Leisure Events Manager on Tel: 01329 236100, or e-mail towncentre@fareham.gov.uk.
Historical High Street
High Street is located to the east of the town centre and boasts some lovely examples of Georgian architecture. It is home to a number of quality restaurants and speciality shops and services.
Around the District
Other nearby places to shop include Portchester (with a traditional market held on Wednesdays), Stubbington Village and Locks Heath.
Getting to Fareham town centre
By Car - there are 2,500 car parking spaces in the town centre.
By Bus - the bus station 

 is located right in the town centre.
By Rail - Fareham rail station is situated at the end of West Street only a few minutes walk from the shops or hop on a bus.
For further information please contact the Leisure Events Manager on tel: 01329 236100 or e-mail towncentre@fareham.gov.uk.