Clean and Green for the Queen
What is Clean for the Queen?
Clean for the Queen was a campaign run by Country Life Magazine in partnership with Keep Britain Tidy which aimed to hold a national clean-up in time for the Queen's 90th Birthday.
An army of volunteers across the country pulled together to help tidy up their local areas and Fareham held its own 'Clean and Green for the Queen' campaign. 
The aim was to not only clean up litter, but to also improve the horticultural features around the borough, alongside the Fareham in Bloom initiative.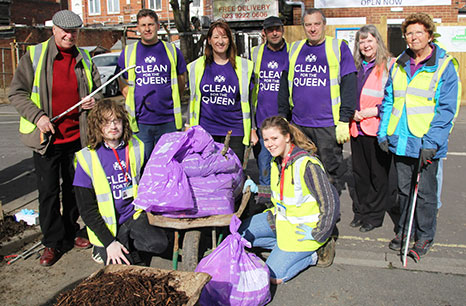 When did it take place?
Events took place throughout the country in the lead up to the queen's birthday, and a special clean-up weekend was held Friday 4 March – Sunday 6 March.
Why did Fareham get involved?
Around 2.25 million pieces of litter are dropped on the streets of the UK every day, with 30 million tons of rubbish collected from England's streets each year.
Here in Fareham alone we collect over 700 tonnes of street litter from our bins and streets each year across the Borough.
We think Clean for the Queen is a great initiative inspiring us all come together, encouraging the local community to help clean up the borough to make it a beautiful place for us all to live and work.
What did the Council do?
Our main clean-up event took place Friday 4 March at Portchester car park and Precinct.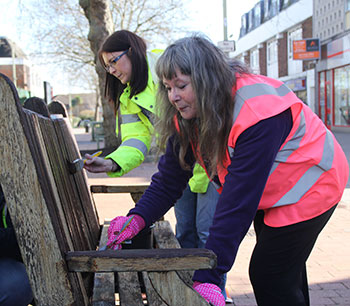 A team of Council Officers, members of Portchester Community Association, Carillion Facilities Management, children from Andy Pandy's pre-school, along with the Fareham in Bloom Volunteer Team worked really hard to help spruce up the area.
Work included:
A litter pick
Removal of weeds in the gutters
Re-varnishing street furniture
Re-planting shrubs beds in the car park
More information
For more info about clean-up events in Fareham please contact the StreetScene team 01329 824842.