Latest Covid-19 Advice
Coronavirus symptoms
Please note that the video below has no sound. A description of its contents can be found here.
Welcome back
Please note that the video below has music only. A description of its contents can be found here.
Stay alert to stay safe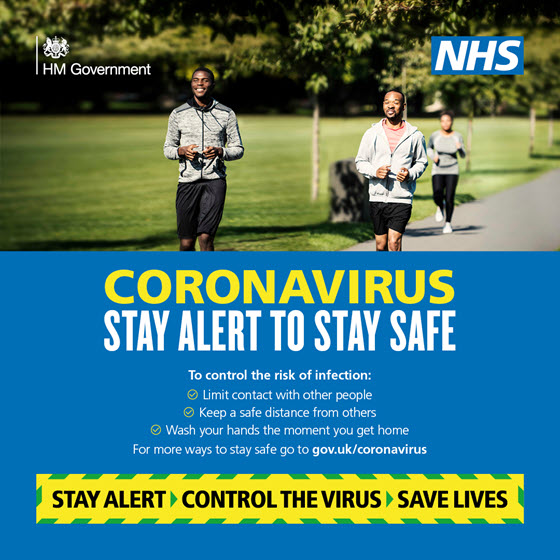 Coronavirus scams – How to spot and avoid
Scams can take many forms, and some can be very sophisticated and seem trustworthy, so we ask our residents to be extra cautious.
Coronavirus phishing scams
Phishing is a type of online scam in which an email or text message is sent in an attempt to obtain sensitive information, such as usernames, and financial information. They usually disguise themselves to look like they have come from a legitimate organisation.
Free school meals
Parents have been sent an email that reads: 'As schools will be closing, if you're entitled to free school meals, please send your bank details and we'll make sure you're supported'. The Department of Education have confirmed this is a scam email and not official.
Fake lockdown fines
This scam takes the form of a text message that claims your movements have been monitored through your phone, and that you must pay a fine by going online via a link they have sent you. Do not click or tap any links these messages ask you to, it is a way to steal the payment details of users.
The 'infection list' scam 
An email is going around from a supposed research group mimicking the US Centre for Disease Control and Prevention (CDC) and the World Health Organisation (WHO).
The message claims to provide a list of local infections, however, if you want to access it they must click on a sensitive information stealing link or make a payment to an e-currency Bitcoin account.
The 'track and trace' scam
Some people are recieving phone calls from  scammers that are pretnending to be from the new 'track and trace' service, they say you have been in contact with an infected person, and need to provide card details to pay for a COVID-19 test. This is not true, the 'track and trace' service will never ask for financial information.
Anyone contacted by these scanners should make a note of the number calling them, put down the phone and report such calls to Action Fraud 

 or by Telephone: 0300 123 2040
Fake and counterfeit products
Bogus websites and fake products
Fake sanitisers, face masks and Covid19 swabbing kits sold online and door-to-door. These products can often be dangerous and unsafe. Products can also be sold online and door-to-door, but never appear once the money has been taken.
Doorstep coronavirus scams
Charity help
While there are genuine groups of volunteers providing help to Fareham residents during self-isolation, there have been reports of criminals cold calling at homes and offering to go to the shops for them, taking their money, or in some cases their bank cards, and not returning.
The groups associated with Fareham Borough Council are: Acts of Kindness, Community First, One Community and Waypoint Church. You should be extra vigilant and ask for ID from anyone claiming to represent one of these groups.
Coronavirus doorstop test
Criminals may be calling at people's homes offering to test them for COVID-19. This is a scam by people who are trying to gain access to your home – do not let them in, and then contact the police. There is no testing being carried out in people's homes.
Coronavirus driveway cleaning
Some criminals are offering services to clean drives and doorways to kill bacteria or offering to 'decontaminate' the inside of your home. This is a scam do not take up the offer. 
How to avoid being a scam victim
Protect your PC, laptop, tablet and smartphone with strong passwords and security programs such as antivirus software.
Consider all emails requesting your personal information as suspicious
Only download files or software from trusted sources
Do not let anyone into your home that you do not know or are not expecting
Do not click on links or attachments in suspicious emails or text messages
Look at the style of email or text message, does it have spelling or grammar mistakes or a messy layout? If yes, then it may be a scam
Before buying anything online, do some research and check reviews to ensure the seller is genuine. Or ask a friend or family member for advice on the purchase.