Coronavirus (Covid-19) - Help at hand
It has been a difficult time for many people during the Coronavirus pandemic. Things are thankfully starting to get back to some sort of normality, but there is still help available should people need it.
Clinically vulnerable people
If you have been shielding because you received a letter from the NHS saying that you are clinically vulnerable the Government is set to change the rules for you. You should recieve a letter from the NHS shortly which will explain the changes. From 1 August, you will no longer need to shield, and the advice is that you can now visit shops, but you should continue maintaining social distancing.
If you received Government provided food boxes and medicine deliveries, this will stop at the end of July.
If you still need help after this, and do not have any friends or family to help, there are a couple of things you can do:
Make use of the supermarket priority delivery slots that are available for this group. If you registered as a clinically vulnerable person before Friday 17 July on the Government website, you will be eligible for a priority slot. 
If you can't get a priority delivery slot, and do not have help from friends, family or neighbours, please complete this form and a member of the team will get back to you.
Further information for those that have been shielding can be found on the Government website 

.
If you are self-isolating due to Coronavirus and don't have help from friends or family, you can still get help if you need it. Please complete this form and someone will come back to you.
If you're worried about your health or have coronavirus symptoms, call NHS 111 or check the NHS website. 

Local Response Team
We are working with a number of local organisations that may be able to help and assist, if you cannot get help from friends or family, which can be found below.
Accessible version of Coronavirus – Help at Hand Infographic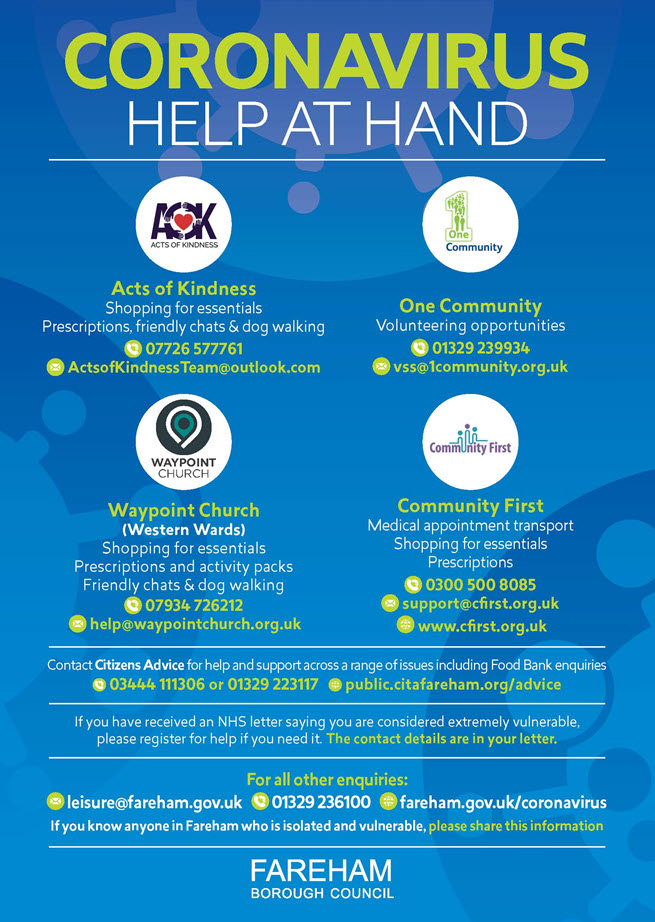 Help for those struggling financially and unable to get essentials
Some residents across the Borough may be struggling financially through no fault of their own.  This might be because their employment has ended or hours have been reduced as a result of Coronavirus, or their income is less because they have been furloughed or are self-employed. 
Fareham Borough Council wants to reassure these residents that, if they don't have enough income to buy food, help to bridge the gap is available.
Local charitable organisations such as Acts of Kindness and Waypoint Church are working hard to help any families that come to them for help.
If you need help with a food parcel or essential items please contact Acts of Kindness or Waypoint Church, or if you unsure who to contact, please complete this form.
Back to the Future
The Back to the Future project aims to provide support for vulnerable people who are struggling to re-engage with their communities following periods of isolation.  It could be helping with someone's first visit to the supermarket since lockdown measures have eased or getting on the bus, to attending a hospita or GP appointment or maybe just having a chat or cup of tea with someone.   
For more information please contact Hayley Malcolm on 023 8090 2416 or email hmalcolm@1community.org.uk.
Help from other community groups and organisations
There are many other local community groups and organisations who may be able to help during this time. This could include food deliveries, helping to pick up medication, a friendly chat on the phone or help with dog walking.  Please visit this webpage to find out where you may able to get help in your local area.
Donating essential items
Organisations still need help with donations as they continue to provide support to those that need it the most.
If you would like to donate, please visit this webpage to find out how.
Longer term help
For some, there is real uncertainty around current and future finances, and concerns about being able to afford to feed the family. Don't leave it until it's too late. Citizens Advice are available to help now offering free, impartial advice over the phone for a wide range of issues you may be facing, including money worries, housing issues, debt, employment advice, consumer problems or family and relationship issues.
Please contact Citizens Advice

(40 KB)if you need help now, or think you may need help in the future.
Hampshire Food Revolution
Hampshire Food Revolution offers bags of fruit and veg that would have otherwise ended in landfill. The recommended donation for a bag is £4-5.
They are based outside Fareham North West Community Centre, Henry Cort Drive, Fareham, PO15 6TL.
Parcel collection dates are released on their Facebook page and must be reserved in advance before you visit.
www.facebook.com/foodrevolutionCIC 

For more information please contact hampshirefoodrevolution@gmail.com.
---
More information
If you have any other questions or queries about help in the community please contact leisure@fareham.gov.uk
If you would like more information about council services during this time please visit www.fareham.gov.uk/coronavirus
Accessible version of Coronavirus – Help at Hand Infographic
Organisation
What they can do to help
How they can be contacted?


- Shopping for essentials
- Prescriptions
- Friendly chats
- Dog walking

 

ActsofKindnessTeam@outlook.com07766521314

Please provide as much information as possible about your needs to ensure help can be prioritised.



Helping the local community in the Western Wards areas including Park Gate, Locks Heath, Priory Park, Warsash and Sarisbury:

- Shopping for essentials
- Prescriptions
- Activity packs
- Posting letters
- A friendly phone call


- Advice and information on debt
- Support with relationships
- Food bank enquires
- Welfare benefits
- Housing disputes (including eviction)
- Employment issues (including changes to contract hours or other terms and conditions).
03444 111 306 or 01329 223117
public.citafareham.org/advice 


Volunteering opportunities.

To safeguard our most vulnerable people further, One Community is asking that volunteers have an enhanced DBS (official security check), have access to a car with the necessary insurance, and they must have had no contact with anyone displaying Coronavirus symptoms.
 
01329 239 934
vss@1community.org.uk
What they can do to help:

- Medical appointment transport
- Shopping for essentials
- Prescriptions 

0300 5008085

www.cfirst.org.uk