Coronavirus (Covid-19) - Help at hand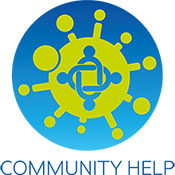 The Council is aware of the growing concerns that face the community at this time. We understand this may be a challenging time for many, in particular those that are needing to self-isolate.
If you are self-isolating because you are at a higher risk from coronavirus, we can help to connect you to the network of community volunteers.
They can help with the collection and delivery of essential items, like food and prescription medicines.
Who is this support for? 
We are offering support to people who are self-isolating (and so cannot leave their home) because they are particularly vulnerable to coronavirus, and who do not have existing help from family, friends or neighbours. They might include: 
people with a serious health condition (and are 'extremely vulnerable') 
people who are over 70
pregnant women 
people who are displaying coronavirus symptoms  
people who are self-isolating for other reasons  
If you can get help from friends or family, please do this in the first instance so we can better help those who can't. 
Local Response Team
We are working with a number of local organisations that may be able to help and assist which can be found below.
Please note that this list will be regularly updated.
Accessible version of Coronavirus – Help at Hand Infographic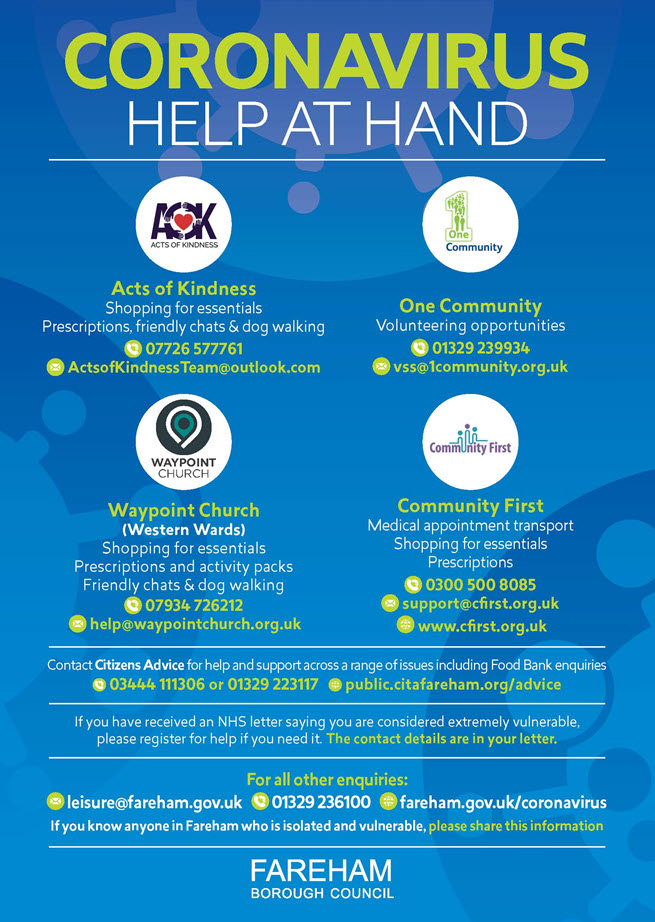 Unsure on how to get help
If you are unsure about which organisation may be able to help you best please complete this form and a member of the team will get back to you.
 
Help for those struggling financially and unable to get essentials
Some residents across the Borough may be struggling financially through no fault of their own.  This might be because their employment has ended or hours have been reduced as a result of Coronavirus, or their income is less because they have been furloughed or are self-employed. 
Fareham Borough Council wants to reassure these residents that, if they don't have enough income to buy food, help to bridge the gap is available.
Local charitable organisations such as Acts of Kindness and Waypoint Church are working hard to help any families that come to them for help, not just the vulnerable and shielded.
Please contact us

(86 KB) if you need help with essentials.
 
Help from other community groups and organisations
There are many other local community groups and organisations who may be able to help during this time. This could include food deliveries, helping to pick up medication, a friendly chat on the phone or help with dog walking.  Please visit this webpage to find out where you may able to get help in your local area.
 
Donating essential items
If you would like to donate items to help support the groups delivering essentials to those that need help, please visit this webpage to find out where you can donate.
 
Longer term help
For some, there is real uncertainty around current and future finances, and concerns about being able to afford to feed the family. Don't leave it until it's too late. Citizens Advice are available to help now offering free, impartial advice over the phone for a wide range of issues you may be facing, including money worries, housing issues, debt, employment advice, consumer problems or family and relationship issues.
Please contact Citizens Advice

(41 KB) if you need help now, or think you may need help in the future.
 
Extremely vulnerable (shielded) people
The Government has identified some people who are 'extremely vulnerable' to getting seriously ill from Coronavirus because of an underlying health condition which means they are unable to leave their house. These people will receive a basic food parcel each week which will be delivered to their door.
If you have received a shielding letter from the NHS and would like help with registering for the Government's support, please contact the Coronavirus Hampshire Helpline on 0333 370 4000. The helpline is available seven days a week, from 9am-5pm.
If you have not received a letter and feel that you should have done as you have medical condition that classes you as exremley vulnerable, you can register for support on the Government website here 

.
 
Cancelling NHS food parcels
If you receive a food parcel because you are part of the shielded group and would like to cancel your food parcel as you have other means of getting supplies, you will need to re-register on the Government website 

.
You will be asked, 'Do you have a way of getting essential supplies delivered at the moment e.g friends and family'. Tick 'Yes' to this and complete the form to register. Please note that your request may not be processed straight away due to demand.
If you have received a food parcel from a local charity, such as AOK or Waypoint, you will need to contact them directly on the contact details in the above table.
 
Support for Rough Sleepers
Protecting those who are rough sleeping in the Borough, whilst ensuring the Government's social distancing rules are followed is challenging, particularly when rough sleepers refuse the help that is being offered.
Special provision has been made to accommodate all rough sleepers identified by the Outreach team.  This includes a number of hotel rooms where bed and breakfast is being paid for by the Council.  To date, only one couple has turned up at the hotel, despite the fact that five rooms were booked and paid for.  The Outreach team is continuing to work with the individuals who are choosing to remain on the streets in the hope that they will take up the offer of accommodation.
Any rough sleepers who are not known to the Council, or the Outreach team, can still be accommodated if they let us know where they are.  If you see a rough sleeper please email housing@fareham.gov.uk or call 01329 824343 with a description of the person, where they were and the time of day.
From Monday 6th April all rough sleepers are being moved to self-catering accommodation where they will have their own cooking facilities.  They will also be given food parcels.
 
Supermarket home deliveries
Supermarkets are working closely with the Government to identify those who are extremely vulnerable to coronavirus and ensuring they get access to the food they need. They are currently working to directly contact those that have shopped with their supermarket before to offer priority online delivery slots to the elderly, disabled and vulnerable.
If you have not yet received information from your local supermarket, and are unable to leave your property and do not have help from family, friends or neighbours, please call the supermarket directly to access priority home delivery slots.
You can also register for help to access food, medicine and social contact via gov.uk/coronavirus-extremely-vulnerable 

. Your details will then be shared with your local supermarket if you require food and they will be in touch, however this may take some time for any support offered through this service to arrive. Wherever possible you should continue to rely on friends, family and wider support to help you meet your needs, or contact one of the groups in the table above who will be able to help.
 
Hampshire Food Revolution
Hampshire Food Revolution is a service that is available, offering bags of fruit and veg that would have otherwise ended in landfill.
Recommended donation for a bag is £4-5.
They are based outside Fareham North West Community Centre, Henry Cort Drive, Fareham, PO15 6TL.
We recommend you check before you visit.
hampshirefoodrevolution@gmail.com
www.facebook.com/foodrevolutionCIC 

Opening times
Tuesday 1:30-3:30pm
Thursday 1:30-3:30pm
Saturday 10:30am-12:30pm
---
More information
If you have any other questions or queries about help in the community please contact leisure@fareham.gov.uk
If you would like more information about council services during this time please visit www.fareham.gov.uk/coronavirus
Accessible version of Coronavirus – Help at Hand Infographic
Organisation
What they can do to help
How they can be contacted?


- Shopping for essentials
- Prescriptions
- Friendly chats
- Dog walking

AOK are working to a RAG system to prioritise those who need the right support and they will do their best to help where possible.

Red – Over 70's, isolated, no family/friends/neighbour support. Aim to make contact within 2 hours

Amber – Symptomatic, isolated, mobility constraints, limited support. Aim to make contact within 24 hours

Green – Self-isolated, single parents with limited support. Aim to make contact up to one week.

ActsofKindnessTeam@outlook.com07766521314

Please provide as much information as possible about your needs to ensure help can be prioritised.



Helping the local community in the Western Wards areas including Park Gate, Locks Heath, Priory Park, Warsash and Sarisbury:

- Shopping for essentials
- Prescriptions
- Activity packs
- Posting letters
- A friendly phone call


- Advice and information on debt
- Support with relationships
- Food bank enquires
- Welfare benefits
- Housing disputes (including eviction)
- Employment issues (including changes to contract hours or other terms and conditions).
03444 111 306 or 01329 223117
public.citafareham.org/advice 


Volunteering opportunities, help with dog walking.

To safeguard our most vulnerable people further, One Community is asking that volunteers have an enhanced DBS (official security check), have access to a car with the necessary insurance, and they must have had no contact with anyone displaying Coronavirus symptoms.

More information about volunteering can be found on the Government website. 
01329 239 934
vss@1community.org.uk
Community First

What they can do to help:

- Medical appointment transport
- Shopping for essentials
- Prescriptions 

0300 5008085

www.cfirst.org.uk