Covid-19 Vaccinations
The COVID-19 vaccine is a huge step forward in the fight against coronavirus. The vaccines are safe and effective and are currently being provided to residents across the borough. Having a vaccine is the best way to protect the most vulnerable and save lives. The Government has produced an easy-read guide to the vaccinations which you can find here 

.
Fareham Borough Council is working closely with the health service to ensure that residents who are vulnerable, alongside the frontline workers who support and protect them, receive a COVID-19 vaccination in a timely way. This is the biggest immunisation programme in history and you can find Hampshire and Isle of Wight specific information here 

.
The NHS are vaccinating as many people as possible, as quickly as possible, according to their clinical need. Providing you fall into one of the categories listed by the NHS, you don't need to wait to be contacted in order to book a vaccination. You can either phone 119 or go onto the NHS website to book yourself a jab.
The categories now include everybody aged 18+ so if you fall into one of the categories below you can proactively book yourself a jab here 

.
people aged 18 and over
people at high risk from coronavirus (clinically extremely vulnerable)
people who live or work in care homes
health and social care workers
people with a condition that puts them at higher risk (clinically vulnerable)
people with a learning disability
people who are a main carer for someone at high risk from coronavirus
Any one not currently included in this list should continue to wait until they are contacted for their vaccination. While the vaccine roll-out is underway, it is important that you continue to adhere to existing Covid-19 restrictions and take care to protect yourselves and others.
You do not need to pay to receive the vaccine. The NHS will never ask for your bank details or other personal information for you to have the vaccine. If you have received a letter, text, email or telephone call asking for these it is a scam. See our advice on spotting coronavirus scams here.
Please ensure that you attend your booked appointments. At your first vaccination appointment, you will be given an appointment card stating the vaccine you received and your second vaccination date. This will be in the same location as your first vaccination unless advised otherwise.
Below are some of the most frequently asked questions in relation to the COVID-19 vaccination programme.
Further information can be found here 

.
Q: How many doses of the COVID-19 vaccine will need to be administered?
A: The vaccine is given in two doses, which will be up to 3 to 12 weeks apart. This is administered via an injection into your upper arm.
Q: How effective is the vaccine?
A: Data from clinical trials have shown the vaccines are up to 94 per cent effective in protecting people over the age of 65 from coronavirus, with trials suggesting it works equally well in people of all ages, races and ethnicities. There were also no serious safety concerns reported in the trials. 
Q: How quickly is the vaccine effective after doses?
A: Full protection should begin 7-10 days after the second injection.
Q: Can you still infect others once you have been vaccinated?
A: Yes.  You can still carry the virus on your body and clothes if you come into contact with it. You will therefore still need to follow the guidance in your workplace, including wearing the correct personal protection equipment and taking part in any screening programmes. To continue to protect yourself, your residents, your family, friends and colleagues you should follow the general advice at work, at home and when you are out and about by practicing social distancing, wearing a face mask, wash your hands carefully and frequency. Full guidance is available at www.gov.uk/coronavirus 

Q: Is the vaccine safe?
A: The current COVID-19 vaccines have all met strict standards of safety, quality and effectiveness set out by the independent Medicines and Healthcare products Regulatory Agency (MHRA).
Any coronavirus vaccine that is approved must go through all the clinical trials and safety checks all other licensed medicines go through. The NHS will only provide a vaccine once it has been thoroughly tested to make sure it is safe and effective.
You cannot get COVID-19 from the vaccine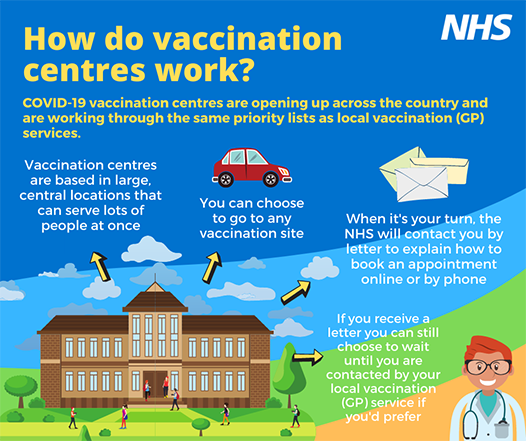 Q: Where/how are vaccinations going to be administered?
A: Sites across Hampshire and the Isle of Wight are now vaccinating patients, in the largest vaccination programme in NHS history.  Vaccinations for at-risk groups will take place at the most appropriate settings to encourage uptake. This includes administering vaccination to at risk individuals in their usual place of residence. The three models of delivery are: 
Hospital Hubs - NHS providers vaccinating staff onsite. 
Local Vaccination Services - Community and primary care-led service based on local and logistical considerations but is likely to include GP practices, local authority sourced buildings or other local facilities, and potentially roving teams if vaccines are transportable in this way.  
Vaccination Centres - Large scale centres such as sports and conference venues set up for high volumes of people. 
You will be notified of your vaccination options when you receive your invitation to receive your vaccination.
Q: Who is going to be administering these vaccines?
A: Recruitment of workforce has focused on those who already have experience in handling vaccinations but may currently work outside of NHS settings, for example, independent nurses or allied health care professionals. 
Q: Are there any side effects to the vaccine?
A: Like all medicines, vaccines can cause side effects. Most of these are mild and short-term, and not everyone gets them. These include:
a sore arm where the needle went in
feeling tired
a headache
feeling achy
Approved COVID-19 vaccines will be monitored continuously after roll out by The MRHA and Public Health England (PHE) to ensure that the benefit of the vaccines continues to outweigh any risk. You can report suspected side effects to COVID-19 vaccines through the Coronavirus Yellow Card reporting portal 

Q: What about people who are immunocompromised who can't benefit from a vaccine?
A: The Government is exploring all avenues available to them, to ensure that a treatment for COVID-19 is found. Treatments containing COVID-19 neutralising antibodies have been secured from AstraZenaca to support immunocompromised people who will not be able to benefit from a COVID-19 vaccine. 
The antibody treatment currently being developed by AstraZeneca is a combination of two monoclonal antibodies and has the potential to be given as a preventative option for people exposed to the virus, and to treat and prevent disease progression in patients already infected by the virus if successful. 
Q: Can pregnant or breastfeeding women take the vaccine?
A: Full guidance women of childbearing age, pregnant, planning a pregnancy or breastfeeding 

.