Press Release
16 October 2016
MPs to discuss Hampshire and Isle of Wight devolution plans
Devolution for Hampshire and the Isle of Wight is gaining momentum with MPs from across the area gathering to discuss proposals.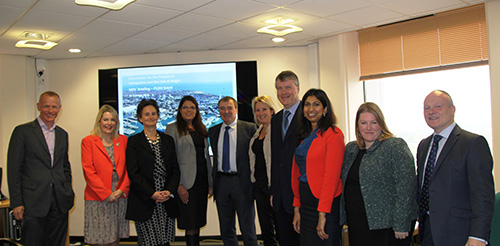 Positive discussions have been taking place between central government and the 19 organisations who are seeking devolved powers for the benefit of businesses and residents in the area after the bid was submitted last month.
Alongside this, MPs including Suella Fernandes, MP for Fareham, and Caroline Dinenage MP Gosport, Hill Head and Stubbington, will be coming together at a series of meetings to hear more about the progress of the bid.
One meeting in particular is a landmark for the area, in the form of the inaugural meeting of the All Party Parliamentary Group for Hampshire and the Isle of Wight, showing the growing desire from all parties to work closely together and maximise the possible benefits.
Executive Leader of Fareham Borough Council, Cllr Seán Woodward said: "This is an important step towards devolution, allowing MPs across the area to discuss the benefits that it will bring to the area. A devolution deal will help us to boost business and skills for work, accelerate housing delivery and will allow us to invest in infrastructure. This means that as the economy grows we can transform our local public services, allowing us to work closely together and secure long-term prosperity for the whole area."
Ranil Jayawardena, MP for North East Hampshire and Chairman-elect of the new parliamentary group, said: "It's important for all MPs across Hampshire and the Isle of Wight to work together for our area's benefit. Devolution will be a big focus for our new group. Done right, it can undoubtedly bring big benefits to our area and we're all very keen to play our part in making meaningful devolution a reality."
ENDS
For further general information on Hampshire and the Isle of Wight's devolution bid please contact:
Lee Todd - 023 9283 4086 or lee.todd@portsmouthcc.gov.uk
For further information on the All Party Parliamentary Group for Hampshire and the Isle of Wight, please contact:
Tristan Robinson – 020 7219 3637 or tristan.robinson@parliament.uk
The meetings MPs will be attending are on the following dates:
16 October – chairman: Cllr Sean Woodward, Partnership for Urban South Hampshire (PUSH)
21 October – chairman: Ranil Jayawardena, MP for North East Hampshire
23 October – chairman: Cllr Roy Perry, Hampshire County Council
For information, quotes or queries relating to specific local authorities please contact the relevant council's communications team.
The 15 local authorities, two local enterprise partnerships and two national park authorities which have jointly submitted the bid are:
Hampshire County Council
Isle of Wight Council
Portsmouth City Council
Southampton City Council
Basingstoke & Deane Borough Council
East Hampshire District Council
Eastleigh Borough Council
Fareham Borough Council
Gosport Borough Council
Hart District Council
Havant Borough Council
New Forest District Council
Rushmoor Borough Council
Test Valley Borough Council
Winchester City Council
Enterprise M3 Local Enterprise Partnership
Solent Local Enterprise Partnership
New Forest National Park Authority
South Downs National Park Authority
The bid has also received the support of Hampshire Constabulary, Hampshire Fire & Rescue and NHS England Wessex.
Should the proposals be successful, the ambitious nature of the devolution deal and number of partners involved mean it could become a blueprint for cities and regions across the country to follow.
Hampshire and the Isle of Wight's proposals are set out in a prospectus submitted to government in September and focus around four key themes: boosting business and skills for work; accelerating housing delivery; investing in infrastructure; and transforming public services.
Within these themes, projects will deliver on the government's productivity plan and rural productivity plan and ensure: more homes are built; more efficient local planning; further expansion of broadband; better mobile connectivity; improved transport connections; a more highly-skilled workforce with employers setting the skills agenda locally; higher employment and better wages.
Plans for homes include accelerated delivery of existing local plans, as well as an additional 500 homes a year in the priority home categories of rural affordable, low-cost starter, council new-build and extra care, by making use of exception sites including redundant public land.
Until it is confirmed what central government would award to Hampshire and the Isle of Wight it isn't possible to say what structure the devolved arrangement would take, but rather than creating a new layer of government the aim is to bring existing decision making powers from Whitehall down to a local level.
Furthermore, the partners will work to deepen devolution locally and seek opportunities for district and parish councils to take on extra functions and develop services with communities.
The overall aim is to make Hampshire and the Isle of Wight an even better place to live and work, by growing the economy in urban and rural areas without destroying what makes them special. This would include maintaining valued open spaces through measures such as greenbelt and working hard to bring local people more into the design of their own communities.