Press Release
23 March 2016
Passivhaus Project Complete!
The key handover ceremony for a sustainable housing project took place today at Allotment Road, Sarisbury Green.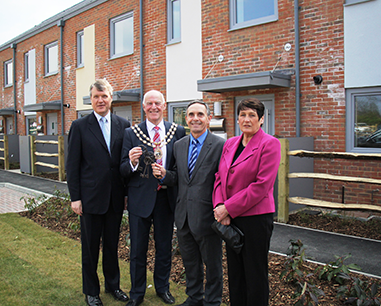 Six new homes, constructed to Passivhaus Certification Standards, have been built and funded by Fareham Borough Council with assistance from the Home and Communities Agency's (HCA) 2015-2018 Affordable Homes Programme.
The core focus of the standard is to dramatically reduce the requirement for space heating and cooling, whilst also creating excellent indoor air quality and comfort levels.
Now that they are complete, the two bedroom homes will be rented to families on the Council's housing list.
A ground breaking ceremony took place to commemorate the start of construction last year.
Executive Member for Health and Housing, Cllr Mrs Kay Mandry said, "I am thrilled these homes are now complete as they can set an example for houses we wish to provide in the future."
Justin Elliott, Divisional Director with Interserve, the international support services and construction group responsible for building the project, said, "Interserve are proud to have successfully constructed Fareham Borough Council's first ever full Passivhaus accredited houses at Coldeast Close, Sarisbury. This innovative pilot scheme offers a new solution for homes within sustainable communities."
Energy performance of the homes will be monitored for twelve months to gain a deeper understanding of the benefits of Passivhaus.
ENDS
Notes to editor:
Over 37,000 buildings have been designed, built and tested to this standard worldwide.
The Passivhaus Trust is an independent, non – profit organisation which is the leading, low energy design standard.
The Trust aims to promote the principles of Passivhaus as a highly effective way of reducing energy use and carbon emissions from buildings in the UK, as well as providing high standards of comfort and building health.
Allergy sufferers and asthmatics have confirmed that they find Passivhaus buildings to be extremely comfortable and allergen-free, due to the filter. The air is circulated around the house, and a constant zero pressure gradient between the outside and the interior is achieved by a specially-designed system which maintains the pressure balance in order to prevent air from being drawn in or leached out, which would create a draught. As the air is drawn through the system, filters remove airborne particles to ensure the fresh and healthy feeling.
About Interserve
Interserve is one of the world's foremost support services and construction companies. Our vision is to redefine the future for people and places. Everything we do is shaped by our core values. We are a successful, growing, international business: a leader in innovative and sustainable outcomes for our clients and a great place to work for our people. We offer advice, design, construction, equipment, facilities management and frontline public services. We are headquartered in the UK and listed in the FTSE 250 index. We have gross revenues of £3.6 billion and a workforce of circa 80,000 people worldwide. Website: www.interserve.com 

. For all news follow: @interservenews.
For further information contact:
Katy Ladyman, PR and Marketing Officer, Tel: 01329 824518
fax: 01329 550576, e-mail: publicity@fareham.gov.uk