Press Release
Thursday 11 April 2013
All welcome to Sunlight Gardens road show
Fareham Borough Council's Community Safety Team, First Wessex, Sovereign House and the local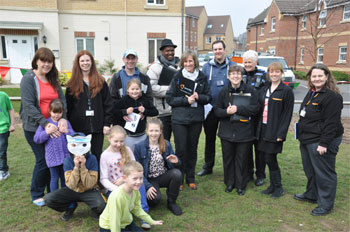 police team held a community day on Wednesday 10 April to celebrate the strong sense of community at Sunlight Gardens, a new development in Fareham.
There were free crafts and treasure activities in the park play area for the children and young people of the estate. Details of activities run for young people over the summer by the Community Safety Team and First Wessex were also available, as well advice on who you should contact with particular problems or concerns.
Maintenance men from both First Wessex and Sovereign Housing were also at the event, carrying out minor repairs for tenants.
Fareham Borough Council's Community Safety Team met with residents of all ages to find out their views on Sunlight Gardens; what they would like, what they don't like and what improvements they would make.
Executive member for health and housing, Councillor Brian Bayford said: "This was a great event where residents of Sunlight Gardens came together and joined in on an array of different activities. They have a great support network from Fareham Borough Council, First Wessex, Sovereign House and the local police making it a great community to live in".
ENDS
 
For further information contact:
Lauren Clarke, PR and Marketing Support Officer, tel: 01329 824518
fax: 01329 824505, e-mail: publicity@fareham.gov.uk
This and previous media releases can be viewed on the Council's website: www.fareham.gov.uk/pressreleases
Keep in touch on the go
Like us on Facebook 

Follow us on Twitter