Fareham Town Community Action Team
Area Improvements
Blackbrook Park Play Area
The Blackbrook Park Play Area was refurbished at a total cost of £60,000 in October 2011.
Improvements included new safety surfacing and several new pieces of play equipment including a giant Admirals Lookout and more seating.  Image: refurbished play area
Crossfell Walk Play area                       
Crossfell Walk Paly Area was refurbished at a total cost of £45,000 in April 2012. Improvements included new safety surfacing and all existing items of equipment upgraded.                                                                                                                                                                                                                                                                                    
Fareham Park Youth Facility
The installation of a new Multi Use Games Area (MUGA) was installed in 2010 at a cost of £75,000. The area includes a seating area and an enclosed ball court with goals and basket ball hoops at each end, ideal for hockey, netball and basketball activities.
Bath Lane Recreation Ground - Cricket Facilities
Improvement works to the twin lane, non - turf cricket practice facilities at Bath Lane recreation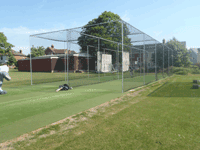 ground have recently been completed at a cost of £17,500. Work included refurbishing the existing pitch surfaces, supplying and installing new Notts Weave cricket surfaces and repositioning of the cage and netting facilities to meet with the English Cricket Board (ECB) guidelines. Work also included installation of a new line-wire system to prevent balls escaping under the netting, a new standing area and a Geotextile membrane was laid down to help with pitch drainage and to prevent future clogging and weed growth.
(The picture to the right, shows the refurbished cricket pitch surfaces).

Bath Lane Recreation Ground - Cricket Changing Facilities
Work is currently underway - identifying potential refurbishment options to the existing changing rooms and clubhouse. £100,000 from the developer's contributions fund has been allocated towards this project and it is envisaged, additional external funding will be secured to enable this project to go ahead in 2012/13.

Fareham Heathens Rugby Club
Fareham Heathens Rugby Club was awarded £30,000 towards the cost of pitch drainage improvements at Cams Alders Recreation Ground.

Future Improvements
The Council have implemented a five-year programme to address the improvements required to its open space facilities in the Fareham ward area. As part of each projects implementation process, consultation will be undertaken with local residents and community groups / organisations that use the facilities.
2011 / 2012
Pitch improvements at Fareham Park
Improvements to Fareham College's football pitch
2012 / 2013
Improvement s to the artificial football pitch at Henry Cort
Improvements to Fareham Town Football Club's artificial football pitch
A Multi - Use Sports Area (MUGA) at Cams Alders/ Longfield Ave and Redlands Lane
2014 / 2015
Improvements to Abshot Road's youth facility area
Improvements to the Eastern Parade's play area
If you would like further information about any of projects please contact the Leisure & Community Team on 01329 236100 or email customerservicecentre@fareham.gov.uk.