Match Funding Grants
Fareham Borough Council introduced match-funding grants in 1997 to help support and contribute towards capital projects lead by sport, community and arts organisations in both the voluntary and public sectors. On this page you can access details of the match-funding grants awarded in your area over the past three years.
Western Wards Community Action Team

Lockswood Bowling Club and Priory Park Community Centre
Lockswood Bowling Club and Priory Park Community Centre were awarded two match-funding grants, totalling £22,000 in May 2007 to help meet the cost of providing dedicated male and female toilets for use by the Bowling Club, an extension to the hall foyer entrance and improvements to the changing room facilities.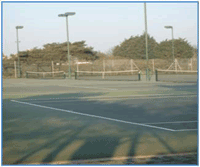 Warsash Tennis Club
Warsash Tennis Club received a matched funding grant of £40,000, towards the cost of constructing a new clubhouse, a fourth court, and resurfacing of existing courts.
(The picture to the right shows the improvements carried out to the Tennis Courts).
Sarisbury Community Centre
Sarisbury Community Association were awarded a match funding grant of £3605 in July 2009 to help towards improvements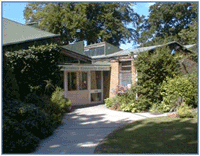 costs. Improvements included the renewal of a large flat roof area to the Sarisbury Community Centre building and three patio doors being replaced.
Portchester Community Action Team

Associated Football Club (AFC) Portchester
AFC Portchester were awarded a match fund grant of £10,000 in May 2008 to support the cost of installing and supplying power for floodlighting and barrier surrounds. The club was successful for a second time in July 2010 and awarded £30,000 to help towards costs for a new modular build clubhouse and stand area.
Fareham Town Community Action Team
Generation 2 Table Tennis Club
The Generation 2 Table Tennis Club at Neville Lovett School was successfully awarded a match grant fund of £15,000 in April 2008. Contributions were made towards; new lighting in the existing gym, conversion of the existing store cupboards as well as a new equipment storage area.
Cams Hill School
Cams Hill School underwent major building improvements in 2008 at a total cost of £840.00. A match-funding grant of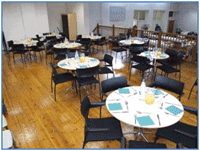 £20,000 was given to the school to help contribute towards the costs of a new ceiling grid to support lighting and the redecoration of the cafeteria area.
Crofton Community Action Team
Stubbington Guides Hut
Crofton Girl Guiding received a £20,000 matched funding grant from Fareham Borough Council in June 2009, towards a replacement building, this project was also supported by other external funding and the Guides raising £54,000.
If you would like further information about any of projects please contact the Leisure & Community Team on 01329 236100 or email customerservicecentre@fareham.gov.uk.