Portchester Community Action Team
Have your say on Portchester Park
Fareham Borough Council is looking for residents' views on whether they would like to see a Multi Use Games Area (MUGA) located on the site of the former Portchester Community Centre and if so which sports that would like to see included.
On Friday 14th June 2013 Fareham Borough Council will be holding a Consultation event at the Portchester Community Centre from 2pm-9pm and would encourage you to come along and look at the projected images of how the changes to the area will look once it has been developed into a Multi Use Games Area, and talk through the proposals with a member of the Leisure Development Team.
Alternatively you can complete a short online questionnaire which also details the options and shows projected images of the site.
MUGA Key Facts
The overall size will be approximately the size of a tennis court with run off area
The perimeter fencing will be designed to be vandal resistant and with anti climb measures
The MUGA will not be floodlit
The MUGA will be cleaned and maintained by Fareham Borough Council
We have put together an image of the MUGA on how it may look on the site.
Please click on the links below to view other Multi Use Games Area within the Fareham Borough

Completed Area Improvements
Kenwood Road play area
Improvements to the play area at Kenwood Road were carried out in the autumn of 2010, following a consultation process with local children, young people and families. The total cost of this project was £60,000.
Dore Ave play area
Improvements to the play area have recently been carried out, following a successful grant of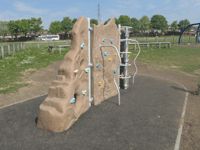 £50,000 from the Governments Play Builder Initiative. Two new pieces of equipment were installed and the existing equipment repainted.
Wicor Recreation Ground - football changing facilities
Fareham Borough Council has successfully been awarded a Facilities Grant of £230,649 by the Football Foundation to enable the construction of new changing rooms at Wicor Recreation Ground in Portchester.
Following consultation with local clubs and the leagues that use the facility, the new and improved facilitiy will consist of six changing rooms, spectator WC's and official changing rooms and will be fully inclusive and accessible to all visitors and users.
Work is scheduled to start in May 2012 and will be completed in December 2012.
This project is the result of excellent partnership working with both the Football Foundation and the local football club, AFC Portchester and will be the second major community facilitiy provided for the Portchester community in 2012 following the recent construction of the new Portchester Community Centre.
For further information about these improvements, please contact the Leisure Development Manager on 01329 824476.