Titchfield Community Action Team
Area Improvements
Titchfield MUGA
The installation of a new Multi Use Games Area (MUGA) was installed in 2010 at a cost of £37,000. The area includes a seating area and an enclosed ball court with goals and basket ball hoops at each end, ideal for football and netball activities.

Kites Croft Play Area
The Kites Croft Play Area was refurbished at a total cost of £40,000 in 2011. Improvements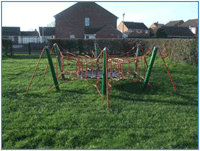 included new safety surfacing and several new pieces of play equipment including a giant spider's web.
Titchfield Tennis Courts
Improvements to the Titchfield Tennis Courts have recently been carried out. Work included both courts being cleaned, the court surfaces being treated and repainted.
Future Improvements
The Council have implemented a five-year programme, identifying the improvements required to its open space facilities in the Borough. As part of each projects implementation process, consultation will be undertaken with local residents and community groups / organisations that use the facilities.
2012 / 2013
Pitch improvements at Mill Lane
If you would like further information about any of the projects please contact the Leisure & Community Division on 01329 236100 or email customerservicecentre@fareham.gov.uk.