Gardens Open Scheme
Welcome to the Fareham in Bloom 'Gardens Open' Scheme.
On one day a year, award winning gardens from previous Fareham in Bloom community gardening competitions are open for the public to visit and enjoy. One ticket, bought at the first garden you visit, gives you entry to all the gardens open under the scheme on that day. Our first Gardens Open Scheme was in 2005 to celebrate the 10th anniversary of Fareham in Bloom. It was such a success that it was decided to repeat it in 2006. That was even more successful so it was decided to make it an annual event.
The scheme celebrates excellence in gardening and promotes the Fareham in Bloom community gardening competition by showing winning gardens. It enables gardeners to visit one another's gardens to see what is achievable. We hope it encourages them and inspires them to take part in future competitions.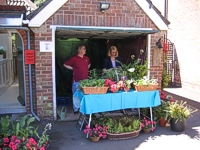 Visiting the gardens is a social occasion for gardeners and non-gardeners to share the experience of seeing a variety of different styles of garden. Visitors are welcome to sit for a while, enjoy refreshments in some of the gardens and take the opportunity to buy plants from some. Owners are always willing to share their ideas and knowledge with visitors.
Profits from tickets, together with income from the sale of tea, cakes and plants at some of the gardens, is donated to charity. Half of the total profit is donated to the Mayor of Fareham's Charities and the other half is donated to charities selected by the Fareham in Bloom Co-ordinators (normally a horticultural charity).
The Gardens Open Day for 2019 will be taking place on Sunday 21st July from 10am-6pm. The link below give more details on how you can purchase tickets and which gardens are taking part.
Check out which gardens will be taking part

(5 MB)
Need help?
If you require any assistance or have any particular needs then please contact us.
If you would like any further information on any of the above please contact Customer Services on 01329 236100 or e-mail parks@fareham.gov.uk.