Beach and Slipway locations
Beach locations
Slipways
Beach locations
Meon Shore
This long stretch of shingle beach is just before the Hill Head Harbour where activities such as kitesurfing, windsurfing and swimming take place. The Titchfield Haven National Nature Reserve 

ground is opposite this beach. It offers a rare opportunity to learn more about the many birds that come here.
Cliff Road Beach
This beach is a priority swimming area with a promenade and beach huts. Please keep dogs under control as this is an important place for birds to rest and refuel.
Salterns Beach
This is probably the most popular beach in the Borough, with an abundance of water-based activities. There is a children's play area. Dogs are not allowed on the beach between 1 May and 30 September and horses and barbeques are not allowed at any time. Dogs should be kept under control and you should respect the 'no dog fouling' law. Please respect the wildlife habitats supporting unusual plants like the yellow-horned poppy and sea kale. They are not weeds but have adapted to harsh coastal conditions.
Monks Hill
Priority is given to swimming in the area in front of the beach huts although windsurfing is allowed at the far easterly end of this beach. Dogs are not allowed on the beach between 1 May and 30 September.
Fareham Creek
This area of Portsmouth Harbour is designated a site of special scientific interest (SSSI) and a Ramsar site. It is also part of the Portsmouth Harbour Special Protection Area (SPA) so provides protection to a range of birds and wildlife. It is an offence to disturb the area under the Special Nature Conservation Order 2001 (SNCO) and we may fine offenders.
Portchester Castle
The coastline towards the castle is very natural and open and includes the Fareham Easy Access Trail (FEAT) 

 wheelchair accessible footpath surrounding the Cams golf course. This footpath can be approached from the Delme Roundabout and offers fine views of the Creek and places of interest.
Historic Portchester Castle  

 is managed by English Heritage and is open daily.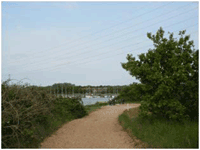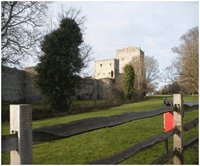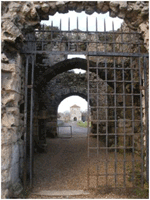 If you require any further information please contact Customer Services on 01329 236100 or email customerservicecentre@fareham.gov.uk.
Slipways
There are four public slipways available for general use:
Fareham Creek at Lower Quay - this provides access to Portsmouth Harbour
Salterns Road car park at Hill Head - provides access to the Solent shoreline
Shore Road at Warsash - provides access to the River Hamble Estuary
Swanwick Shore Road at Swanwick - provides access to the River Hamble