Fareham's Golden Christmas Trail
Sponsored by: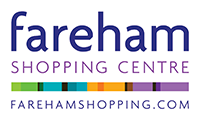 Fareham's Golden Christmas trail will launch on Saturday 18 November and run until Saturday 16 December. 
Find all the golden signs in the windows and unscramble the letters to complete the phrase to be in with the chance of winning a prize.
Trail sheets can be picked up from Vito Lounge and Waterstones or downloaded from this webpage

(1 MB).
Golden sign locations:
Waterstones 22-24 Thackery Mall, Shopping Centre, PO16 0PQ
New Look Unit 9 Thackery Mall, Shopping Centre, PO16 0PD
Bloom 76 High Street, PO16 7AW
Cackleberrys 6 West St, PO16 0BH
Krews Kandy 54 Osborn Mall, Shopping Centre, PO16 0PW
Crafty Makery 42 Westbury Mall, Shopping Centre, PO16 0PD
Bowl Central Unit 4, Vannes Parade, PO16 0BX
Westbury Manor Museum 84 West St, PO16 0JJ
Sweet Peas Play Café 179a West St, PO16 0EF
Made by Me 202 West St, PO16 0HF
Vito Lounge 80 West St, PO16 0JN
Once you have unscrambled the letters please return your trail sheet to Vito Lounge or Waterstones, or alternatively email a photo of your completed trail sheet to leisure@fareham.gov.uk to be in with a chance of winning one of these prizes:
£30 Vito Lounge voucher - donated by Vito Lounge
Made by Me pottery painting voucher - donated by Made by Me
Sweet Peas Play Cafe entry for a child and adult plus a drink - donated by Sweet Peas Play Cafe
Chocolate hamper - donated by Krews Kandy
You will be contacted if you have won in January 2024. Good luck!