Nitrogen dioxide monitoring and air quality in Fareham
We have more than 40 nitrogen dioxide monitoring sites throughout the Borough.
The survey sites include facade and kerbside sites which reflect the maximum concentration of nitrogen dioxide to which people may be exposed.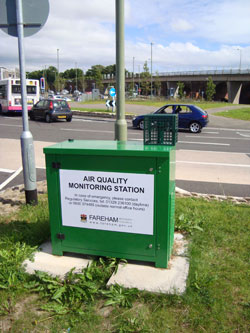 Diffusion tubes
We monitor nitrogen dioxide manually using more than 40 passive diffusion tubes which can be fixed to lamp posts, soil and vent pipes. The tubes are left in place for a month, collected and analysed at an accredited laboratory. The results of average monthly levels of nitrogen dioxide are shown in the graph below band and are used in our air quality review and assessment process.
Gosport Road Fareham automatic nitrogen dioxide monitor
In June 2008, we installed a continuous nitrogen dioxide monitor in the Gosport Road air quality management area. The automatic monitor was funded for three years by contributions from Hampshire County Council and DEFRA. Results are used with the diffusion tube results in air quality review and assessment reports. In future, they will indicate the impact of the new busway than runs between Gosport and Fareham.
Portland Street Fareham automatic nitrogen dioxide monitor
A new automatic monitor was installed in Portland Street, Fareham in April 2012. It was funded by a planning agreement with the developer of the food retail store at Quay Street. The monitor will be used with the results from the diffusion tubes on homes in Portland Street to assess the impact of the new Quay Street "throughabout" that takes northbound traffic from the A32 onto the A27 Eastern Way and the M27 without passing close to homes on Portland Street.
Automatic monitoring results
The automatic monitors provide nitrogen dioxide results based on real time data which has not been manually assessed or validated. You can see more for the Gosport Road or Portland Street sites at  www.airqualityengland.co.uk/ 

.
For the air quality management areas (AQMAs), nitrogen dioxide results are the most significant. The results also refer to a pollution band - the Government's daily air quality index. You can see more at the DEFRA Air Quality Index 

.
About nitrogen dioxide
Nitrogen dioxide (NO) and nitric oxide (NO) are oxides of nitrogen collectively referred to as nitrogen oxides (NOx). All combustion processes produce NOx emissions, largely in the form of nitric oxide, which is converted to nitrogen dioxide, mainly as a result of reaction with ozone in the atmosphere. Nitrogen dioxide is associated with potential harm to our health.* At very high levels, they irritate our lung airways, increasing the symptoms of anyone suffering from lung disease.  At low levels effects are unlikely to be noticed, even by people who know they are sensitive to air pollutants.** The main source of nitrogen oxides emissions is road transport which accounted for about 49% of total UK emissions in 2000. This contribution has declined significantly recently as a result of a variety of measures. We expect further reductions up until 2010 and beyond.*
*Department for Environment Food and Rural Affairs 

, Part IV of the Environment Act 1995 Local Air Quality Management - Technical Guidance LAQM TG(03) Crown copyright 2003.
** Department of the Environment, Transport and the regions, Air Pollution - what it means for your health, Crown copyright 1998.
For more information about the air quality review process or any other pollution matter such as bonfire smoke, dust, fumes, odours and noise, contact us on 01329 236100 or e-mail regulatory@fareham.gov.uk.