Parking strategies for Fareham Town Centre
Fareham Borough Council adopted a new Town Centre Parking Strategy in December 2012. The strategy contains a number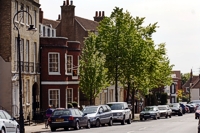 of polices designed to help support the town centre in terms of parking offer. The strategy aims to ensure that parking is provided efficiently in terms of designation, tariff and location. The strategy contains a total of eight policies that will be implemented over the next five years.
Efficient provision of parking is important both to maintain the vibrancy of the Town Centre and to enable visitors and residents to access the services provided within it. The strategy aims to be realistic in its proposals, but also to offer improvements where possible. The new strategy can be found here

(1 MB).

For further information please contact the Head of Engineering and Transportation, on tel: 01329 236100 or e-mail parkingservices@fareham.gov.uk.