Solent Airport at Daedalus
The Daedalus site is around 200 hectares, of which the Solent Enterprise Zone area covers 82 hectares. The remainder is an operational airport that is being commissioned for wider business use via the development of two new business parks – Faraday to the east of the site and Swordfish to the west.
Further information can be found on the Solent Airport website 

.
Fareham Borough Council alongside Gosport Borough Council have agreed a rates discount policy for the Enterprise Zone to allow companies generating new jobs in the advanced engineering target sectors to benefit from discounts for five years from first occupation. Outline planning permission for the whole Daedalus site has been approved and we are waiting for a conclusion of our section 106 agreements with the landowner.
Fareham Innovation Centre at Daedalus
Opened in 2015, Fareham's £5.3m Innovation Centre offers office space and workshop facilities for new businesses, with a focus on the engineering, aerospace, aviation and marine industries.
The Centre was part of large scale investment at the Enterprise Zone, which included improvements to the runway and new business park infrastructure in 2014.
The Innovation Centre has close ties with Fareham College's new Centre for Engineering and Manufacturing Advanced Skills Training (CEMAST) 

on site.
In 2018 the Innovation Centre is set to expand, with plans approved for a 3400m2 extension which will create 33 new offices and 5 workshops.
Further information about Fareham Innovation Centre and its facilities can be found here: www.fareham-ic.co.uk 

.
How many jobs will the Centre create?
In total, there are 110 people working for 27 businesses on site, plus a further 36 local businesses regularly using drop-in facilities, such as meeting rooms.
It is anticipated that 292 new job opportunities will be created with the extension, with the focus on the engineering, aerospace, aviation and marine industries.
Does the Centre target a certain market?
Recognising its location in the Solent Enterprise Zone, the centre will provide facilities that encourage businesses related to the advanced manufacturing sector,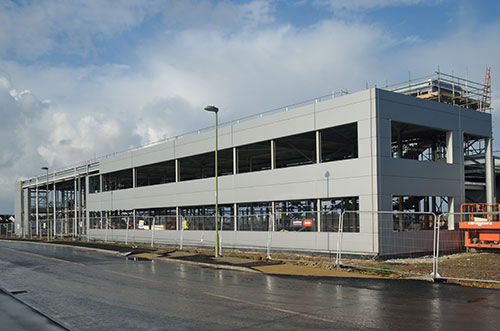 including marine, aerospace, aviation and precision engineering.  However, the foremost objective will be to support new, highly-skilled businesses to thrive, so all entrepreneurs will be welcomed into the Centre.
You can view the plans for Solent Airport and the Innovation Centre extension online.
Press Releases
2 September Progress on Solent Enterprise Zone praised by Council
2 December Topping Out ceremony held at Fareham Innovation Centre, Daedalus
For more information:
If you are a business looking for opportunities on site or an investor or developer, contact our commercial property agents Lambert Smith Hampton:
Robin Dickens / Elise Evans
Lambert Smith Hampton
01489 579579
07977 519333
07703 393120
rdickens@lsh.co.uk
eevans@lsh.co.uk
Guy Jackson
Lambert Smith Hampton
01489 663533
07525 631305
Solent Local Enterprise Partnership on information about grants. (https://solentlep.org.uk/what-we-do/solent-enterprise-zone 

)
Solent Enterprise Zone for information on discounts and other benefits (www.solentez.co.uk/ 

)