If a hanger was left on your bin
What is a hanger?
A hanger is a plastic notice that is left on your bin by our refuse collection crew which tells you that there is a problem with the contents of your bin.
Recycling bin hangers
You may find a yellow or red hanger has been attached to your blue lid bin:
Yellow - There were some items not suitable for recycling in your bin but the crew was still able to collect it. The hanger should tell you what the item(s) were in your bin. Too much of the wrong materials can mean that the entire lorry-load will be rejected at the sorting plant. Please do not recycle juice cartons, materials in plastic bags, or plastic trays and containers. We can only collect plastic items that are bottle-shaped.  More information of what we can't recycle can be viewed online. Please also see what can be recycled in the bin for the next collection.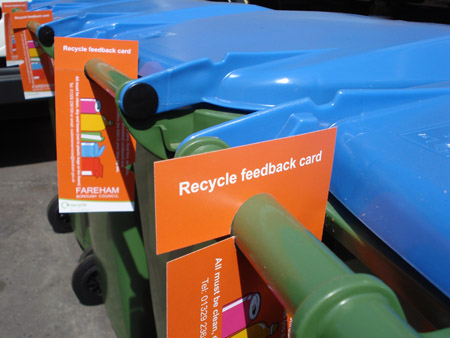 Red - This means that the bin has the wrong materials in it and has not been collected. If it is added to the collection vehicle it could ruin the whole load. The hanger should tell you what the problem item(s) were in the bin. Please remove these items and put your bin out as usual on the next scheduled day of recycling collection.
Refuse bin hangers
Green - The bin was emptied but was overfull and the lid was open. Waste may fall out when the bin is moved. Please make sure you recycle as much as you can to reduce this.
Blue - The bin has not been emptied. It is too heavy, overfull or has the wrong materials. Garden waste, hazardous waste, liquids, soil and rubble cannot be put in household refuse bins. They should be taken to a household waste recycling centre.
Garden waste hangers
Your sack is too heavy, too full or is not from Fareham Borough Council. We collect one sack for free from each property but extra waste can be collected for a charge.