Welborne Planning Application
Fareham Borough Council has received an outline planning application from Buckland Development Limited (reference P/17/0266/OA) for up to 6,000 homes at Welborne Garden Village.
You can view the planning application on its dedicated webpage. Please note that some of the files are very large and may take a long time to download.
What is in the application?
The main proposals in the application are outlined below:
A new community of up to 6000 homes
A district centre and smaller village centre, with shops and community facilities
Commercial, industrial, warehousing and employment space
Health centre
A secondary school and 3 primary schools
Parks, green open spaces and sports pitches
A remodelled M27 J10 to turn it into an all moves junction
Works to the A32 including the creation of three highway junctions and new crossing(s)
Connections to the surrounding cycleway and pedestrian network
The plan below gives an overview of how the proposed development might look.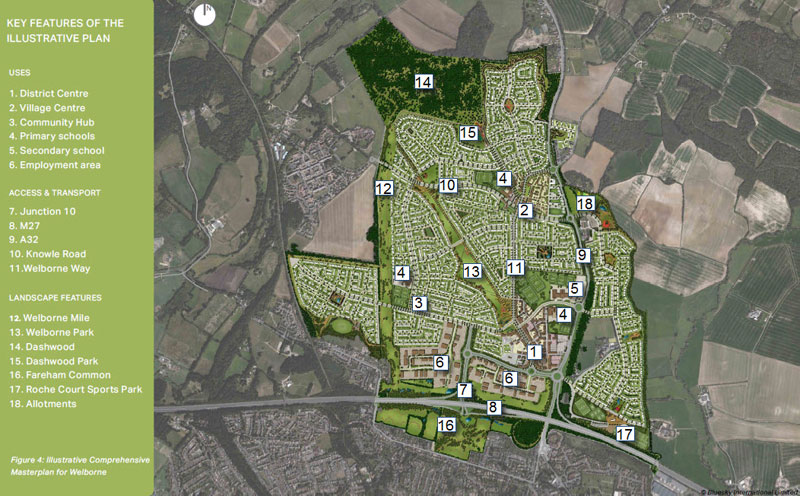 What is to be decided?
The application asks for a decision on the general principles of development eg the number of houses. If outline permission is granted, Buckland Development Limited will need to apply for further approval of the details (known as reserved matters) for most of the development. This would include the specific height and design of buildings and where they will go.
The only parts of the application where Buckland Development Limited has submitted detailed designs is for the proposed works to Junction 10 and the A32.
Welborne Planning Application CAT Meetings
In 2017 the Council hosted  Community Action Team (CAT)  meetings for residents to find out more about hte application and ask questions.  You can read the notes from the meetings on the CAT webpage.
How to comment
You can view the application by visiting the planning application's dedicated webpage or by visiting the Civic Offices between 8.45am and 5.15pm Monday to Friday.
Alternatively you may wish to email your comments to devcontrol@fareham.gov.uk or write to:
Mark Wyatt Principal Planner (Development Management)
Development Management
Fareham Borough Council
Civic Offices
Civic Way
PO16 7AZ
Please note your comments will be published on Fareham Borough Council's website where others may view them. 
Your name and address will be displayed, but personal information such as your telephone number, signature and email address will not be published.