Wicor Skate Park
Location: Wicor Recreation Ground, Cranleigh Road, Portchester.  Pedestrian access from Shearwater Avenue, Birdwood Grove open space and Wicor path.
Size: Wicor Recreation Ground approx 14.7 hectares (36 acres)
Constructed in August 2004, this skate park includes a young person's seating area.  In response to an increase in demand for sport and recreation facilities a Multi-Use Games Area (MUGA) was also constructed at the same time.  The MUGA is an enclosed ball court with goals/basket ball hoops at each end and is suitable for team or individual use. The hard surface is versatile and marked for basketball, football, hockey, cricket and netball.
The skate equipment is made from 3mm metal sheeting and includes the following equipment: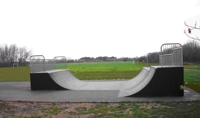 A mini ramp
A quarter pipe
Drive-way with kinked central grind rail
A flat bank
A manual roll pad
A grind box
Back to skate parks page.