Welcome to the COVID Heroes Awards!
For one year only, Fareham Borough Council's 'Citizen and Young Citizen of Honour Awards' are going to step aside for a special one-off award scheme.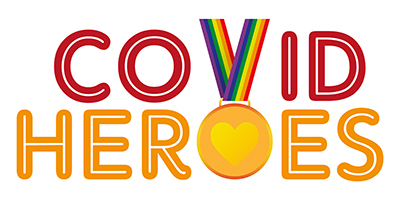 The COVID Heroes Awards are dedicated to the community groups, charities, businesses and individuals of all ages across Fareham who have worked tirelessly to support those in need, and gone above and beyond to help others during this very difficult time.
There are three categories for the COVID Heroes Awards: 
Adults (over 18), in recognition of outstanding service to the community or contribution to helping the lives of others during the COVID-19 pandemic.
Young People (under 18), in recognition of outstanding personal achievements or becoming a role model to family, friends or the community.
Organisations, in recognition of outstanding community service during the COVID-19 pandemic, and going above and beyond to help the Fareham community.
You could nominate a friend, neighbour or family member who has provided help and support to make someone's life easier during lockdown. It could be a young person who has risen through adversity to achieve an outstanding personal achievement, raised money for charity or been a role model for others in their community. Or it might be an organisation which has provided free meals for the vulnerable, raised money for worthy causes or gone above and beyond to become a lifeline for others.
If you can think of a member of the public, young person or organisation that deserves to be nominated, please fill in this online nomination form by 30 June.
All nominees will receive a special certificate of thanks from the Mayor and the Leader of the Council. Winners will be invited to a special celebration event hosted by the council and presented with their award (subject to current COVID-19 guidance).
The Council's 'Citizen and Young Citizen of Honour Awards' will be back as usual in 2022.
Privacy Statement:
The personal information you provide will be used for the Mayor and Leader to send a certificate of appreciation to the person you are nominating for a COVID Heroes Award. It is necessary for you to provide this information so that they can send these gestures of thanks.
The data will only be shared within the Council for the purposes of sending these certificates and contacting the winners in each category. Data will be retained for as long as is needed for this purpose.
Fareham Borough Council is the data controller for the personal data you provide on this form.  You can find further information in respect of privacy and details for the Council's Data Protection Officer here.