Give Plastic the Push!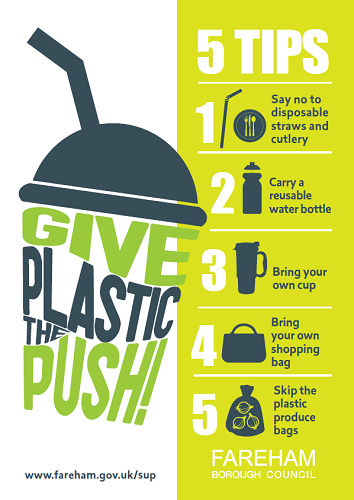 Fareham Borough Council has launched a campaign to reduce use of Single Use Plastic (SUP) in the Borough. The starting point of the campaign is the Council's own use of plastic. 
What have we already done? 
Stopped using plastic straws and stirrers within the Civic Offices.
Installed a new mains fed chilled water unit at the Depot, where officers can refill their bottles.
Installed a mains fed chilled water unit in our car park office. 
Solent Airport has removed its drinks machine and installed a mains fed chilled water unit with paper cups.
Ferneham Hall no longer use or purchase plastic straws, instead they use paper straws.
Fareham Today is no longer posted out to residents in plastic wrappers – instead recyclable paper envelopes are being used.
Posters on display at our Council Connect stand are now printed on recyclable material.
Portchester Community Centre have now installed two plastic recycling bins.
We have switched to plastic free, biodegradable, Parking Penalty Charge Notices. 
What have we pledged to do?
We have also created a new policy on SUP. The policy includes a commitment by the Council to:
stop using SUP cups in the drinks machines in the Civic Offices, Broadcut Depot and Ferneham Hall by 2020;
stop the sale of drinks from SUP bottles in the Civic Offices and Broadcut Depot by 2020;
phase out the sale of drinks from SUP bottles at Fareham and Holly Hill Leisure Centres, Westbury Manor Museum and Ferneham Hall by 2020.
SUP Engagement Officer
A member of the Council's Streetscene team spent six months (October-March 2019) working with over 50 schools, businesses and other groups, providing tips on how they can reduce their own use of plastic. Overall, engaging with over 1,500 people!
Residents will find plastic updates and giveaways on our Twitter 

and Facebook 

page.
If you would like to find out more, please email: publicity@fareham.gov.uk.