Cemeteries Map
Fareham Borough Council has eight cemeteries across the borough. Wickham Road, Posbrook Lane, Roman Grove and Holly Hill cemeteries are segregated by religious denomination. Crofton, St John's and St Paul's cemeteries are interdenominational. With the exception of older areas in our cemeteries, the burial grounds are laid to lawn and memorials and floral tributes are only permitted within the memorial border and no enclosures such as kerbstones or railings may be placed around any grave.
Please select a cemetery location from the map or list below: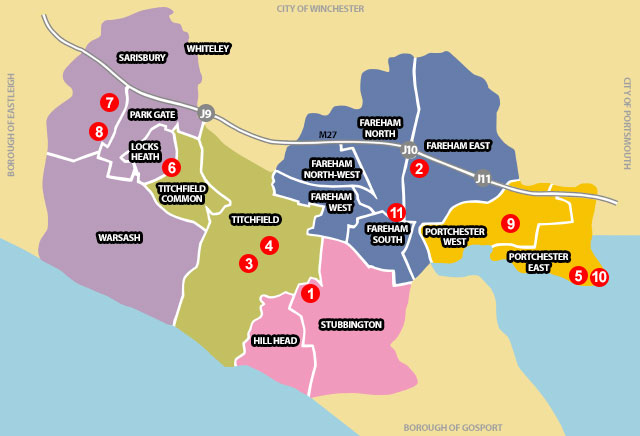 © Crown Copyright. All rights reserved. Licence 100019110.  2009
Cemeteries
1. Crofton cemetery, Stubbington  |  2. Wickham Road cemetery (Fareham cemetery), Fareham  |  3. Posbrook cemetery (Claypits cemetery), Titchfield  |  4. St Peter's cemetery, Titchfield  |  5. Roman Grove cemetery, Portchester  |  6. St John's cemetery, Locks Heath  |  7. St Paul's cemetery, Sarisbury  |  8. Holly Hill cemetery (Barnes Lane cemetery), Sarisbury
Crematoria
9. Portchester Crematorium, Portchester
Churchyards
10. St Mary's churchyard, Portchester  |  11. St Peter and St Paul's churchyard, Fareham
Churchyards
In addition to the cemeteries, the council maintains a number of churchyards too, these are as follows:
St Peter and St Paul's churchyard, Osborn Road, Fareham
St Peter's churchyard, Church Street, Titchfield
Crofton churchyard, Lychgate Green, Stubbington
St Mary's churchyard, Castle Street, Portchester
St Paul's churchyard, Barnes Lane, Sarisbury
If you would like further information on the above, please contact Customer Services on 01329 236100 or e-mail customerservicecentre@fareham.gov.uk.