Finding a relative's grave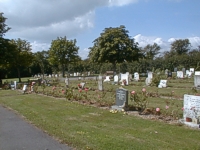 If you are trying to find a relative's grave and you think he/she was buried in one of the eight cemeteries we manage, you might find our burial record search helpful. It is free to use and we can provide more detailed information for a fee of £5.00. This might include the age of the person at the time of death, occupation, address and where he/she died. To do this, we study the Burial Registers so availability will be subject to details being included in these. If you wish to visit the grave, a location plan showing its position in the cemetery can be sent to you.

For further enquiries please contact customer services on 01329 236100 or customerservicecentre@fareham.gov.uk.

If you are looking for a relative's date of birth or death in Hampshire, please look at Hampshire County Council's website www.hants.gov.uk 

. If you are unsure where death took place, you can contact the General Registrar Office 

. You should be able to apply for a duplicate death certificate which contains the date of birth.

The Portsmouth History Centre holds other records, mainly for burials in churchyards within the Fareham area including:
St Peter and St Paul's, Osborn Road, Fareham until approximately 1892
Holy Trinity, West Street, Fareham until approximately 1896
St Mary's, Portchester Castle, Portchester until approximately 1959
St Peter's, Church Street, Titchfield until approximately 1858
St Edmund's, Lychgate Green, Stubbington until approximately 1940
St Paul's, Barnes Lane, Sarisbury until approximately 1961
If you have any enquiries about burials at any of these churchyards, please email portsmouthhistorycentre@portsmouthcc.gov.uk 

or telephone 023 9268 8046.