Street name plates
When there is a new development in the Borough, the developer installs initial street name plates. Once the roads and pavements have been adopted by Hampshire County Council, we take responsibility for any future maintenance and repair of the name plates. We have a small budget to replace old signs as required. The current specification for street name plates is set out in the diagram below.
If you wish to report a problem with your local street name plate, please do so by it using the online form or email customerservicecentre@fareham.gov.uk or telephone 01329 236100.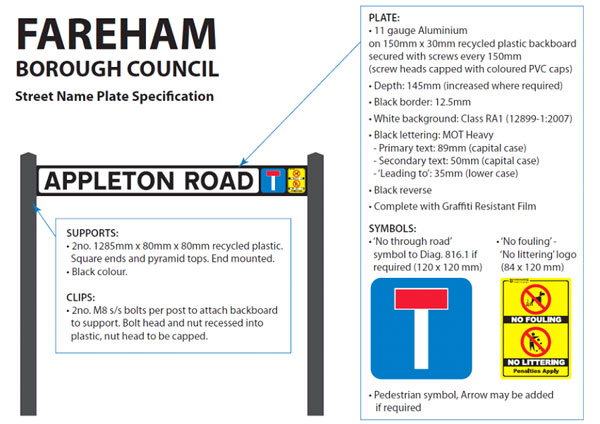 Specification
Plate
11 gauge Aluminium on 150mm x 30mm recycled plastic backboard secured with screws every 150mm (screw heads capped with coloured PVC caps)
Depth: 145mm (increased where required)
Black border: 12.5mm
White background: Class Ra1 (12899-1:2007)
Black lettering: MOT Heavy

Primary text: 89mm (capital case)
Secondary text: 50mm (capital case)
'Leading to':35mm (lower case)

Black reverse
Complete with Graffiti Resistant Film
Symbols
'No through road' symbol to Diag. 816.1 if required (120 x 120mm)
'No fouling' - 'No littering' logo (84 x 120mm)
Pedestrian symbol, Arrow may be added if required
Supports
2no. 1285mm x 80mm x 80mm recycled plastic. Square ends and pyramid tops. End mounted
Black colour
Clips
2no. M8 s/s bolts per post to attach backboard to support. Bolt head and nut recessed into plastic, nut head to be capped.