Royal Armouries Museum at Fort Nelson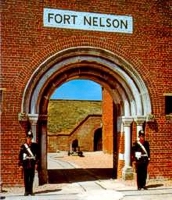 The Royal Armouries is Britain's oldest national museum and was all originally in the Tower of London. It now occupies Fort Nelson, The Tower of London, Leeds Royal Armouries Museum and a permanent display at Louisville, Kentucky, USA. It has one of the most respected collections of artillery in the world, formed over centuries of exploration and conquest.  Imaginative scenes and hands-on exhibits, together with video presentations, describe the development of artillery over the past 500 years.
One of the earliest guns is the Boxted Bombard of about 1450, an English wrought-iron gun powerful enough to fire a 60 kg granite ball. The story continues right through to the 1990's with sections of the infamous Iraqi Supergun. There are French field guns captured at the Battle of Waterloo and fortress guns from India and China. Live gun firings and regular special events show the incredible power of artillery while a team of costumed interpreters bring the past to life with a range of presentations.
Fort Nelson
A strong France seemed to threaten Britain's security during the middle of the 19th century. As a result, Fort Nelson was built at the insistence of Prime Minister Lord Palmerston. It was part of a ring of advanced fortifications surrounding the Royal Dockyard in Portsmouth to safeguard the Dockyard from attack by land. A garrison of around 200 volunteers accompanied by regular army officers would have manned the Fort. Soon after Fort Nelson was completed in 1871, the threat from France disappeared. The fort and its armaments were maintained and regular training sessions took place - just in case the threat returned.
After the end of Second World War the Fort fell into disuse and was eventually abandoned in the 1960's. Hampshire County Council acquired the building and careful restoration followed so that, today, most of the fort is open to the public.
Regular guided tours take place every day providing a fascinating history of the building and explaining why all the original guns face inland!
Opening times:
School holidays: Daily, 10am – 5pm
Term time: Wednesday - Sunday, 10am – 5pm
To book a time to visit, see the Royal Armouries website 

.
Admission Costs:
Entry to the museum is free. However there will be a small admission charge on some special events; please see the Royal Armouries website 

 for more information.
Other:
Free parking
Disabled parking and access
Licensed care
Gift shop
Free guided tours
Free hand-held guides
Historical interpretations
Down End Road, Fareham PO17 6AN
One mile from M27, Junction 11. Follow brown tourist signs.
Tel: 01329 233734 Fax: 01329 822092