Leisure and Community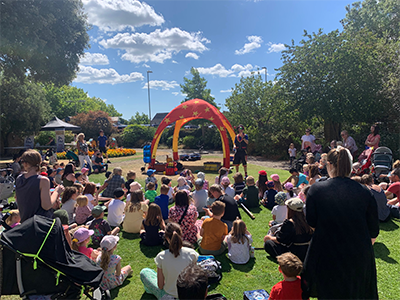 However you choose to spend your leisure time, you are bound to find plenty of things to do in the Borough of Fareham.
With 46 play areas, woodland walks, open spaces, beaches and award winning parks there is lots to do outdoors in the fresh air.
There are two leisure centres where you can go for a swim, hit the gym to keep fit and healthy, or meet up with friends.
Westbury Manor Museum features regular exhibitions, as well as interesting history about Fareham, plus there's a cafe, gift shop and beautiful gardens to enjoy a quiet moment.
An exciting new entertainment venue is coming soon which will include live shows, studio space, cafe and bar and space for community groups.
For those that like a bit of retail therapy, there are plenty of individual shops, cafes, restaurants and businesses across the Borough, as well as Fareham Shopping Centre featuring big brand names.
Events are hosted throughout the year that are put on by the Council, and groups can even add their own events to the What's On Calendar.
Plus, community centres across the Borough benefit local people by providing a bookable space for parties, events or meetings as well as hosting various sports, interest or support groups.
Click on the links below to find out more!
---
 Sponsor an event
There are a range of sponsorship opportunities to help raise the profile of your business and make our events even better. 
 Our guide to running your sustainable event
Take a look at our guide on how to make your event more sustainable.

(8 MB)
 Ukraine Crisis Support
Information about how to help people affected by the Ukraine crisis
 Play area improvement programme
Since 2015, many play areas have been improved through the Play Area Improvement Programme. We are currently working on a new programme where even more play areas will receive an upgrade.
Find out more about the programme here
 To perform or collect money for charity in the town centre you
     will need to book a space in advance
Find out how to book space in West Street and the Performance Podium
 Fareham leisure card
The Fareham leisure card offers a wide range of discounts on leisure activities.
Fareham is fortunate to be the home of many charities and voluntary organisations that offer help to its residents. You can find out all about them here.
Local support to help community groups in the Borough.
Fareham has a great range of events and fun activities that take place throughout the year, at many different venues across the borough. This section will keep you up to date with the latest events and activites, as well as information on play areas, activities for young people, walks and Fareham Leisure Card.
The Borough has a variety of gardens and other open spaces for you to enjoy. From allotments to beaches and nature conservation opportunities, this section lets you know where to go to enjoy the great outdoors.
There are many groups and organisations that hold events throughout the year. You can find out more in this section, or you can add your own community event.
Find out about how the Council provides local business and individuals with sponsorship opportunities.
Situated on a picturesque coastline, the Borough of Fareham provides a unique opportunity to explore a rich heritage of maritime and national history, peaceful woodland walks, conservation areas and an attractive safe coast line. Whether you're a resident or a visitor, you can find out what to do as well as some great places to go.
Fareham Live, formerly known as Ferneham Hall, is currently being remodelled to be relaunched as an exciting new Community Arts and Entertainment venue.
Community centres provide an essential hub for local activities, social support and services. Here you can find out more about their role as well as our plans to develop high quality facilities to meet the needs of our communities across the Borough.
The fascinating Westbury Manor Museum tells the story of the Borough of Fareham, using graphics, models, archive material, photographs, sound effects and objects. Here you can find out more about what you can see and do at the Museum.
A directory of useful contacts to help older residents stay healthy, independent, social and active. Please note the Information in this publication was correct at the time of publication and will be reviewed annually.