Water based activities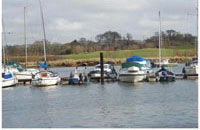 Sailing clubs in Fareham
There are a number of sailing clubs based in Fareham, details of some of the clubs are listed below.
Kitesurfing
Two main kitesurfing clubs operate on an 'as-and-when' floating basis from Salterns Park:
They work to a very similar voluntary Code of Practice. Link Self-regulation is encouraged.
Jet skiing
You can take part in jet skiing from the Daedalus slipway near Lee-on-the-Solent and specific lanes to use are marked by buoys leading to the open sea. Occasionally, there is water skiing from this slipway, with the Solent Skiers Association 

If you require any further information please contact the Leisure and Community Divison on 01329 236100 or email customerservicecentre@fareham.gov.uk.