Access All Areas 2021
Beat the boredom this summer and take part in some great activities!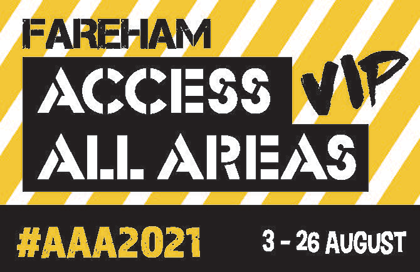 Access All Areas is for young people aged 11-16 years old that live and go to school in Fareham.
This year we are doing things a bit differently - we are working with some fantastic organisations to put on lots of different activities. Spaces on these activities will be limited, so please make sure your parent/guardian registers you early to avoid disappointment.
Register online in advance
You can take part in 1 activity per week throughout August, but you must get your parent/guardian to register you online first. This year, we have introduced a one-off fee of £10 (including VAT) to cover all your sessions, which is payable when we contact your parent/guardian to book them in. Further details are here in the terms and conditions.
Get booked in!
We'll call parent/guardians to get you booked into the sessions. They'll be contacted in the same order that we receive registrations, so remind them to get it sent in early!
Once you are booked on your sessions, a pass will be sent to you in the post. The pass will show us that you have booked, so don't forget to bring it along to the start of each session, and please don't lose it!
If you have any questions about the sessions, please contact the Leisure Team on 01329 236100 or email leisure@fareham.gov.uk.
What about Covid-19?
We want everybody to stay safe and have a great time at the activities. That's why, on the days you're booked in, we'll need you to take a Covid test in the morning, and show us evidence of your negative result when you arrive for your session. You can find out more about that here.
What's on offer?
A timetable of activities is below. All activities must be booked in advance and any additional consent forms will need to be completed and returned to the event organiser on the day of the activity. Your parent/guardian will be sent the additional consent forms in the post along with your pass, together with full details of the sessions you're booked on.