Whiteley Woods Self Guided Walk 
Duration: 45 mins - 1 hr.
Parking: Gull Coppice, off Yew Tree Drive, Whiteley.
Accessibility: Paved footpaths.
Comments: Map available for sites.
The walk
From the car park you will see a greenway starting at the entrance of the Primary School. Walk along this greenway to the right and turn to the left when another greenway cuts across. Follow this path, which will lead along the back of a nature reserve and past Yew Tree Woodland.
When the path meets a road follow the greenway straight across, running along the left of an open space. When another greenway crosses, take the left hand path. Follow this over a road.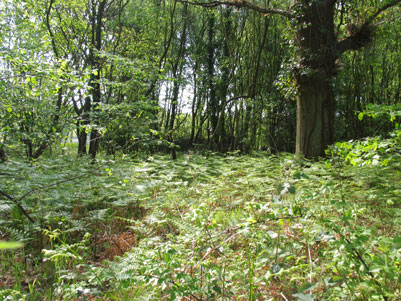 Cross the road and take the greenway to the left just before you reach the mini roundabout. Follow this path through Bushy Land. Take the second left hand turning in the woods, and follow this path round to the right at the junction where there is a metal bin.
Continue along this path, branching off to the left at the northern end of the woods to lead you to a kissing gate and more greenway! Continue along the greenway's twists and turns, crossing roads where necessary.
The path will eventually meet up with a wide track, which runs along the side of a wooded nature reserve. Take a right hand turn along this Strawberry Track and follow it until you reach the mini roundabout.
Take the left hand turn and follow this road straight down until you reach the turning for the Community Centre.
Travel directions
From M27 junction 9 take the turning for Whiteley. When you reach a roundabout, take the left hand turn. Go straight across the Solent Hotel roundabout. You are now in Rookery Avenue. Take the first right into Yew Tree Drive, then the second left, signposted for the Community Centre. You will see the car park straight ahead.
Nearest refreshments
The Parson's Collar, Solent Hotel. From Yew Tree Drive, take a left back along Rookery Avenue. At the first roundabout turn second left towards the Solent Hotel and it's directly on the left hand side.