Portchester Castle Self Guided Walk
Duration: 40 mins - 1 hour.
Parking: Portchester Castle Car Park.
Accesibility: Footpaths and some stiles.
Comments: Not at high tide.
The walk
From the car park walk back on to Castle Street and follow it northwards. Go straight past the turning for White Hart Lane and you will pass a school on your left. Shortly after this school you will see a turning into Cow Lane on your right hand side.
Follow this lane around to the beginning of a footpath to the right. Take this footpath with stiles, running alongside horse fields. At its end you will see a recreation ground in the distance, with a path crossing directly in front of you. Follow this path to the left, heading for the sea.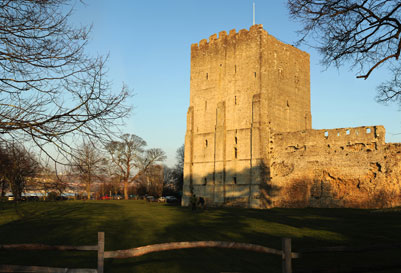 When you reach the sea wall follow it round to your right - if you continue beside the sea wall it will lead you to the Castle. (Short cut: When you reach the Castle turn into a lane on the right, which leads down the side of the Castle. When you reach Castle Street turn left back towards the car park).
Follow the sea wall around the Castle, remaining on the route next to the sea when you reach the moat. This path will lead you briefly down onto the shingle until you reach a slipway to your right. Follow this up and walk straight up Hospital Lane until it connects with Castle Street.
Turn right into Castle Street and continue along this road until you reach the car park.
Travel directions
From M27 junction 11, take the left hand lane of the route to Fareham A27, which will lead you down to a roundabout. Turn left, under a railway bridge, onto A27 East. Continue on this road, straight on at the first two roundabouts, and a little to the left at the third. You should still be on the A27 and passing Portchester Village on your right. At the next roundabout turn right into Castle Street. Follow this road right down until you reach Portchester Castle. Just before you reach the Castle gates there will be a car park to your right.
Nearest refreshments
The Cormorant, Castle Street. Turn left out of the car park and you will see The Cormorant on the left hand side of Castle Street.