River Hamble Self Guided Walk
Duration: 1 hr 15 mins - 1 hr 45 mins.
Parking: Free parking at River Hamble car park on Passage Lane, Warsash.
Accessibility: The route is a fairly bumpy gravel path and features a bridge further along with steps.
Comments: Sections of this walk are not passable at high tide.
The Walk
In the winter months the River Hamble appears serene; an icy time-capsule encasing wrecks and concealing a fascinating maritime history, but as you walk along the shoreline, the river's secret emerges as an abundance of wildlife comes into view. If you walk from Warsash to Universal Marina, you'll be amazed at the variety of wildlife you'll come across. Boasting mudflats, saltmarshes, woodlands and meadows – the River Hamble is as varied in wildlife as it is in stunning views.
Maritime history
The river has a fascinating naval and maritime history, including 18th and 19th century boat wrecks that can be seen at low tide. For hundreds of years the river was used by traders, and ghosts of working vessels remain along its banks – the earliest wreck dates back to AD 668-704. The largest wreck you will see is the remains of an Admiralty MFV built in 1944. It was made along with hundreds of other such vessels, during WWII, to undertake important tasks in the war effort. It was then used as a fishing trawler until 1966, before coming to its final resting place in the River Hamble by the 1990's.
Wildlife
This is the perfect walk for bird watchers and keen photographers – so make sure you bring your binoculars and a camera. On a cold morning the mudflats are covered in a crisp, white frost and at low tide you'll see waders and wildfowl coming out to feed, including Bren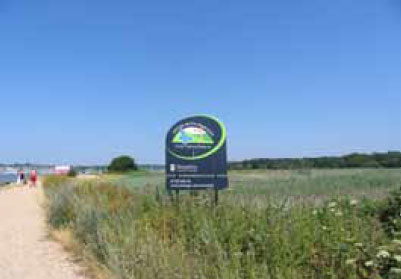 t Goose, Teal, Ringed Plover, Redshank, Greenshank and Lapwing. Other birds you might spot are Egrets, Oystercatchers, Curlew, Black and Bar-Tailed Godwits and in the spring; Little Grebes and even Woodpeckers. In the winter months you may be lucky enough to spot the Rock Pipit and Kingfisher darting across the water.
From Warsash, the path meanders around the river and is mostly flat, but the path itself is fairly bumpy and features a bridge further along. If you walk a little way you'll come to the pink ferry dock. Here you can take a short detour across the water to Hamble Quay, a busy yachting village.
The ferry runs all year round and has been in use since King Henry VII's reign, so you'll be sitting on a little bit of history if you choose to explore the other side of the river!
Walking along the shoreline you'll see the mudflats on your right. Keep your eyes peeled for a large corner that features a steep drop, partially exposed timbers and a bench. Mark Harrison-Jones, Countryside Ranger said: 'This area is the best place to spot the Kingfisher in the winter months.'
Eventually you will come to another bend that features a bench and a narrow pathway into the woodland. You can either continue along the shoreline which will take you to Universal Marina, or you can take the wooded path and head to Wendlehome Nature Reserve. It's an additional half mile loop through pleasant meadowland.
Wendlehome
Head through the wooded path and turn left. The path runs parallel to the shoreline and is mostly woodland. After about 350 metres you'll be able to go left or right, follow the path round to the left and it will take you back to the shoreline where you can continue on your way to Universal Marina for a much-deserved cup of tea and cake.
Important Information
When you start your walk, you'll park at River Hamble car park on Passage Lane, Warsash. It's free to park and has toilets. It's worth mentioning that the only other toilets on the walk are at Universal Marina!
The pink ferry carries foot and bicycle passengers from 9am-6pm in the summer and in the winter, 9am-4pm. Tickets are £1.50 for adults and £1 for children.
To find out more about the wrecks, visit: www.hwtma.org.uk