Shopping in Fareham Town Centre
Live Love Local!
Fareham boasts a fantastic selection of individual shops, cafes, restaurants and businesses all within easy reach and that are accessible to all. Stretching from the High Street, all throughout West Street, up to Fareham train station, you'll find around 100 individual, local shops and businesses, many that are independently owned and managed, each with a unique speciality shopping offer. 
There are other centres across the Borough including Portchester, Locks Heath and Stubbington that all offer a diverse shopping experience.
Independent, local traders need your support more than at any other time. When you shop local you are supporting a local business and local people who are employed by that business. You really are helping your local economy and the people who live in the community.
You can find out more about our local hidden gems by visiting the Live Love Local website 

.
Food and Drink
Fareham has a great range of restaurants, cafes and takeaways located in High Street, all throughout West Street and in Fareham Shopping Centre. From French cuisine to french fries, or Italian to Mediterranean, there is something for everyone, whether you want a quick bite to eat or a nice meal out for lunch or dinner.
Have a wander through the town and see what takes your fancy!
Monday Market
With its spacious pedestrianised town centre, Fareham retains its traditional market town and historic architectural appeal in a modern shopping environment.  
Traditional markets are held from 9am to 3pm:
Every Monday in Fareham West Street
Every Wednesday in Portchester West Street
Additional markets are held every Thursday during the school holidays
The markets offer everything from fresh fruit and vegetables to household goods and clothing. It's convenient to park, close to local bus services, and there is easy access to town centre shops.
If you have any queries relating to the markets above, please contact Bray Associates on 07737 630843 or by email email@bray-associates.co.uk.
Artisan Market
A speciality market is held in the pedestrianised area of West Street and showcases small local handcrafted brands, artists and best street food around. Craft and food stalls line West Street and are a welcome edition to the town centre for 2023.
Artisan markets will take place 10am-4pm:
Saturday 13th May 
Saturday 12th August
Saturday 14th October
For further information relating to the markets above or to book a pitch, please visit Funyard Events website 

.
Fareham Shopping Centre
A bright and airy undercover shopping centre offering many big name stores, including B&M, Boots, New Look and Next, open seven days a week. For more information please visit their website. 

Getting to Fareham town centre
By Car - there are 2500 car parking spaces in the town centre.
By Bus - the bus station  

 is located right in the town centre.
By Train - Fareham train station 

is situated at the end of West Street only a few minutes walk from the shops or hop on a bus.
Shopmobility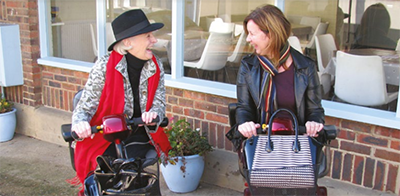 The Fareham Shopmobility service provides mobility scooters, electric and manual wheelchairs to people with limited mobility, enabling them to access Fareham Town Centre for their shopping and leisure activities. Why not go for a coffee at Westbury Manor Museum or take part in one of the many activities and classes at Fareham Library?
Shopmobility is located inside Fareham Shopping Centre, opposite Millets. 
For more information about ShopMobility please visit their website.