Portchester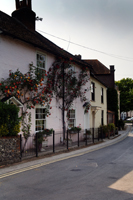 Portchester is on the eastern boundary of Fareham. Much of it consists of modern residential and industrial development alongside the A27 road and the railway, both of which link Fareham and Portsmouth. This part of Portchester has a railway station, a public library and health centre and a large shopping centre.
Although houses now rise up the lower slopes of Portsdown Hill, the top of the hill is still open and there are excellent views across the town, of Portsmouth Harbour and across fields and woodlands of rural Hampshire.
From the centre of Portchester, Castle Street leads to the highly impressive Portchester Castle.  Along the way there are many 18th century houses with much unspoilt character. The cottage gardens help to give the air of an old country village. In medieval times, Portchester was a borough outside the castle gates. In 1294 it was granted a market and fair. A market is still held on Wednesdays between 8.30am and 4.30pm in Portchester's West Street.