Warsash
The river
Warsash lies on the east bank of the River Hamble. It is an attractive residential and yachting centre and is linked to Hamble village opposite by a ferry for pedestrians and cyclists. Originally a 'crab and lobster' fishing hamlet, it once had a flourishing ship-building industry, with HMS Hotspur, a 36 gun frigate, the largest ship launched there. Since the turn of the century, Warsash has been one of the most popular centres for sailing in the country. The river is crowded with yachts of all sizes.
The village
The village centre is a short distance from the river and centres around the clock tower. Here there are many shops, several devoted to yachtsmen's needs, a public house and some very fine residential properties. Close by is the Warsash campus of the Southampton Institute, where officers from merchant navies around the world are trained in seamanship, navigation and other maritime skills.
The waterfront and D-Day
Shore Road leads to the waterfront and is for much of the year a hive of activity. There is an inn, a restaurant, a sailing club, boatyard, a public hard for launching small craft and the Harbourmaster's Office. On the waterfront, a memorial recalls the huge armada which left the River Hamble and the rest of this part of the South coast in 1944 to take part in the D-Day landings, an event in which all of Fareham played an important role.
 Hook village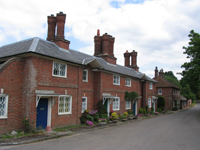 The small hamlet of Hook, about a mile to the east of Warsash, was originally part of the magnificent 18th century estate of The Hook. This has now virtually disappeared but the hamlet remains as a conservation area with Hook nature reserve and Brownwich country park close by.