Performance Podium and West Street Bookings, Fareham Town Centre
---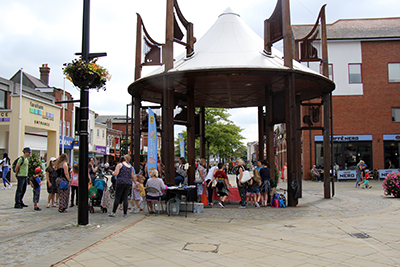 To request to book a space to perform or exhibit at the Performance Podium or on West Street please complete the booking request form. Mondays are unavailable due to the regular market taking place. You will need to provide Public Liability Insurance and a risk assessment in order to confirm your booking. A risk assessment template is available if required.
Buskers do not need to book to perform on West Street and do not need a licence. However, we do ask that buskers book in if they wish to use the Performance Podium to ensure that it is available. 
There is a charge for profitable organisations and this will be confirmed upon booking.
There is no charge for charities or not-for profit organisations.
Tables, chairs, electrical equipment etc are not provided by the Council.   
If you would like to collect money or sell articles for the benefit of charitable organisations, you must hold a charitable collection permit which Fareham Borough Council have issued to you. More information is available on the Charitable collection permits page. Your application for a charitable collection permit must be received at least 28 days before the date of your desired collection.
There are four locations that can be booked. The West Street bookings map

(443 KB) gives details about the locations.
Terms and conditions - Covid-19
Open air markets are now open. There are a number of guidelines that you must follow. If these are not followed you will be asked to leave your pitch and you will not be reimbursed.
You must maintain 2m social distancing with members of your team, other traders and members of the public at all times.
If queues form, you must ensure that 2m social distancing is adhered to. You could mark out temporary guides on the floor with tape if you need to, but this must be removed and disposed of by you at the end of the day. You must also ensure that the guides are within your allocated pitch allowance
You must stay within your pitch allocation at all times
You must have anti-bacterial hand gel available to use yourself and for your customers
Face coverings and gloves are advised if possible
Where possible, ask customers to limit touching items that they don't intend to buy. You could put a sign up
Ensure your exhibition/table/stand is clean and tidy at all times. If your booking is for more than one day you must ensure that all of your equipment is cleaned at the end of the day
Your risk assessment must include details of social distancing and how you will adhere to the above terms and conditions
For further information and advice about Coronavirus and how to stay safe please visit the Government website 

.
General Terms and Conditions
Once you have submitted the booking form you will receive a response from the Leisure and Community Team within 72 hours. Please be aware that your booking is not confirmed until you have received an email response.
The pitch holder is responsible for the insurance of their property/pitch and must have current Public Liability Insurance minimum indemnity limit of £5 Million at the time of the event and a risk assessment.
The pitch holder or agents shall not hold Fareham Borough Council responsible for any loss, damage, theft or destruction of any exhibit, goods, property and equipment.
If your stall requires any powered appliances, you must supply the relevant safety certificates.
If you wish to use a generator this must be agreed upon booking. All generators must be diesel powered and come to the event site fully fueled and may not under any circumstances be refueled during the event. Traders are responsible for providing barriers to ensure that generators are protected from the public.
The costs of any re-instatement required due to damage caused by any activities of the traders, unauthorised vehicular movement or access may be sought from the trader concerned by the venue owner (Fareham Borough Council).
Anyone found selling illegal, counterfeit or inappropriate goods will be removed from site and the relevant authorities will be informed.
The selling of alcohol is strictly prohibited and will result in removal from site, unless authorised in advance as part of the licence process.
As part of Fareham Borough Council's single use plastic policy, please use plastic free alternatives where possible.
Fareham Borough Council reserves the right to cancel this agreement at any time by giving notice in writing to the stall holder at the address given on the booking form, whenever in the opinion of the Event Manager that the continuance of the hiring would not be in the interests of the good management of the site, or in the event of the Government the Council or other Public Body requiring the use of the site for any matter of special importance.
In the event of cancellation or 'no show' fees cannot be reimbursed.
Fareham Borough Council reserves the right to rescind pitches from any trader that fails to provide the requested documentation or fails to meet the minimum requirements.
Fareham Borough Council are not responsible for Fareham Shopping Centre, Locks Heath, Whiteley, Stubbington or Portchester bookings. You will need to contact them separatley if you wish to book in one of these locations.
The Council may vary these conditions at any time.
Once your booking has been confirmed:
You should enter the pedestrian area of West Street from the western end (McDonalds end, PO16 0AB) arriving no earlier than 6am and no later than 8.30am. When leaving, the vehicle must be driven off the opposite end of West Street.
The vehicle(s) must be driven at less than 10 miles per hour and have hazard lights flashing when arriving and leaving West Street.
Only vehicles used as part of the exhibition can remain on West Street.
Any other vehicles being used for unloading must be off site by 8.30am and park in one of the nearby Town Centre car parks and are not to return on site before 4.30pm.
A drip tray is to be placed underneath the vehicle(s) remaining on West Street.
The vehicle(s) should be carefully positioned and consideration given to pedestrians passing by and access into the shops
If attending with a promotional gazebo/tent, please ensure you have sufficient weights to anchor the gazebo/tent down in the event of bad weather.
You must ensure that your exhibition remains stable in windy or severe weather conditions.  The organisers cannot accept responsibility for any damage to your property arising from weather conditions.  Under no circumstances should stalls be 'tethered' to street sculptures, trees or bollards.
Vehicles are to exit West Street at the eastern end (by Ironmaster pub).
All rubbish is to be taken away at the end of the event.
If using PA systems please keep volume to a reasonable level and be considerate of nearby shops and pedestrians.
You must stick to your allocated pitch and must not wander to other areas of West Street.
Please be mindful of nearby shops and pedestrians.The Council reserves the right to terminate a booking and ask the exhibitor to leave if ongoing complaints are received.
The Council may vary these conditions at any time.