Performance Podium and West Street Bookings, Fareham Town Centre
---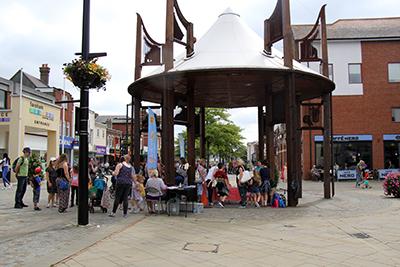 To request to book a space to perform or exhibit at the Performance Podium or on West Street please complete the booking request form. Mondays are unavailable due to the regular market taking place. You will need to provide Public Liability Insurance and a risk assessment in order to confirm your booking. A risk assessment template is available if required.
There are four locations that can be booked. The West Street bookings map

(443 KB) gives details about the locations.
Charges
There is a charge for profitable organisations and this will be confirmed upon booking. Please see our Fees and Charges

(821 KB) for details on Fareham Borough Council's Town Centre charges.
There is no charge for charities booking directly.
Charitable Collections
If you would like to collect money or sell articles for the benefit of charitable organisations, you must hold a charitable collection permit which Fareham Borough Council have issued to you. More information is available on the Charitable collection permits page. Your application for a charitable collection permit must be received at least 28 days before the date of your desired collection.
Buskers
Buskers do not need to book to perform on West Street and do not need a licence. However, we do ask that buskers book in if they wish to use the Performance Podium to ensure that it is available. 
Terms and Conditions
Whether you have booked a space or are busking without a booking, you will need to stick to the following conditions:
Please be mindful of nearby shops and pedestrians. The Council reserves the right to terminate any booking and ask any busker or trader to leave if ongoing complaints are received.
It is an offence under the Environmental Protection Act 1990 to cause a nuisance with equipment in the street.If complaints are received by the council and you are asked by an Authorised Officer of the Council to move location, reduce volume, end the session etc then you must comply with any such instruction, failure to do so may result in further action and/or refusal of future bookings.
Full terms and Conditions and booking day instructions are included within the traders/busking consent letter once the booking is confirmed. These can also be made available upon request.
For more information please contact leisure@fareham.gov.uk