Give Plastic the Push!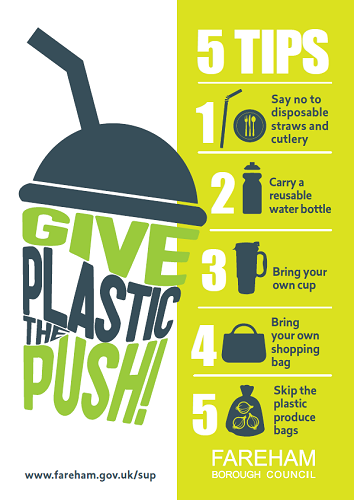 Fareham Borough Council has launched a campaign to reduce use of Single Use Plastic (SUP) in the Borough.
Council SUP Policy 
The starting point of the campaign is the Council's own use of plastic, with the creation of a new policy on SUP. The policy includes a commitment by the Council to:
stop using plastic straws and stirrers in Council buildings by the end of 2018;
stop using SUP cups in the drinks machines in the Civic Offices, Broadcut Depot and Ferneham Hall by 2020;
stop the sale of drinks from SUP bottles in the Civic Offices and Broadcut Depot by 2020;
phase out the sale of drinks from SUP bottles at Fareham and Holly Hill Leisure Centres, Westbury Manor Museum and Ferneham Hall by 2020.
 
SUP Engagement Officer
A member of the Council's Streetscene team spent six months (October-March 2019) working with over 50 schools, businesses and other groups, providing tips on how they can reduce their own use of plastic. Overall, engaging with over 1,500 people!
Residents will find plastic updates and giveaways on our Twitter 

and Facebook 

page.
If you would like to find out more, please email: publicity@fareham.gov.uk.