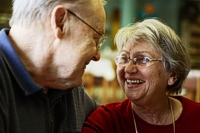 Pension Credit
What is Pension Credit?
Pension Credit is an entitlement for people who have reached the qualifying age for State Pension Credit. This could mean extra money for you every week. You can use this tool 

to check your State Pension age and qualifying Pension Credit age. From the 15 May 2019 if you are a couple you must both have reached state pension credit age in order to claim. Please contact the pension service to discuss this in more detail.
Guarantee Credit ensures from April 2023, people who have reached the qualifying age have an income of at least:
£201.05 a week if you are single; or
£306.85 a week if you have a partner
For further information on how much Pension Credit you may be entitled to, visit the The Pension Service's website 

or you can telephone the Pension Credit Advice line on 0800 99 1234.
What if my circumstances change?
If you are receiving Pension Credit you must tell us about changes that affect:
any children living with you
any non-dependants living with you, and
the rent that you pay
All other changes in circumstances must be notified to the Pension Service who will notify us direct of any change to your Pension Credit.